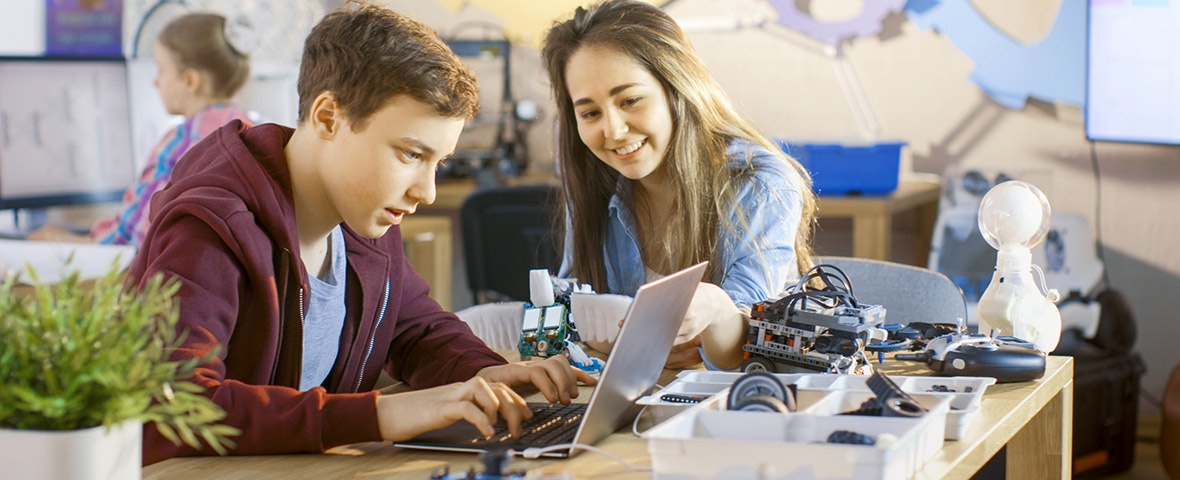 Technology Scouts
Young people strengthen their IT skills
Deutsche Telekom Stiftung believes students should be more involved in their educational careers. They should take more responsibility for their learning and play an active role in what happens at school – from running the school kiosk to acting as mediators and dispute arbitrators.
School IT equipment, too, offers a good opportunity for young people to be involved in extracurricular activities and acquire important skills that will help them in many areas of life. Ideally, professionals are tasked with maintaining and servicing laptops, tablets, smartboards and video projectors. However, some schools have no external IT administrators, leaving these tasks for teachers to do. Luckily, students have stepped into the gap in many places – installing software updates, hosting and designing the school website, or writing posts for the social media channels. They also share their technical knowledge with other students or teachers – a prime example of "reverse teaching".
Deutsche Telekom Stiftung wants to shine a spotlight on the dedication and commitment of these young "technology scouts". It wants to encourage more schools in Germany to delegate minor IT management tasks to students in order to further their education and strengthen their digital and technical skills. It is therefore launching a competition together with the state education ministries of Brandenburg, Hesse, North Rhine-Westphalia, Rhineland-Palatinate and Schleswig-Holstein. This consortium is inviting groups of school-age technology scouts in these states to submit their project ideas. The winners will be invited to a networking weekend in the fall where they can attend workshops on special technical topics.
Applications were accepted from March 21 to May 31, 2022.