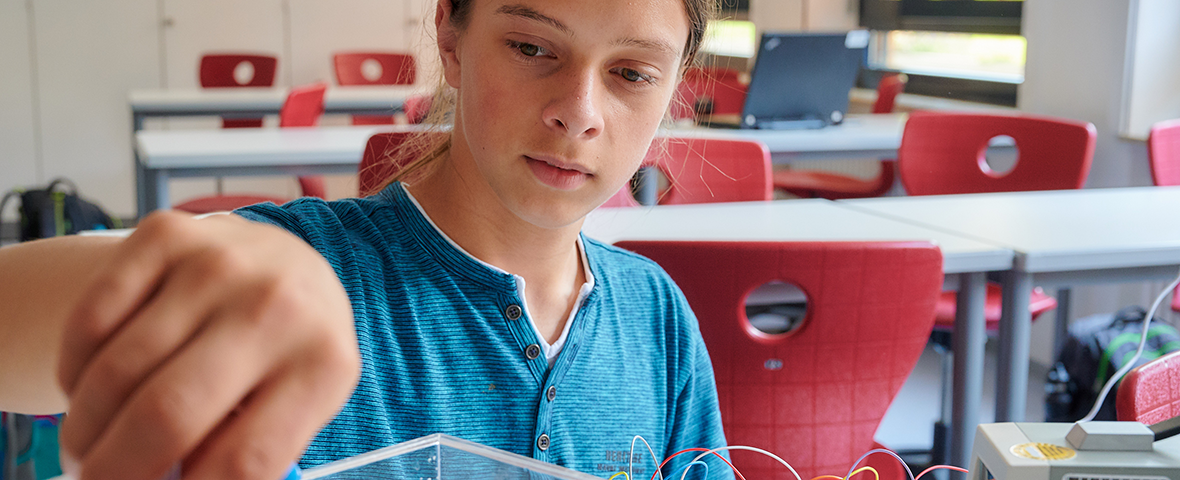 Junior Engineer Academy
A preference for technical subjects
When robots skip through the classroom and school students go on a virtual mission to Mars, it might very well be thanks to one of the lighthouse projects of Deutsche Telekom Stiftung, in this case the Junior Engineer Academy. This elective subject for the intermediate classes of German secondary schools, which is designed to be studied for two years, teaches engineering and technical subjects in a particularly practical way.
A close cooperation between schools, enterprises and universities enables eighth and ninth grade students to get to know the world of research and engineering and to discover their own talents. This makes the Junior Engineer Academy a unique scheme for helping students decide what subject to study and what profession to follow. The model for technical training has become established at 106 schools.
Since 2016, The Junior Engineer Academies in Germany are being used as a model for building engineering partnerships at schools in the Central, Eastern and Southeastern European countries where Deutsche Telekom maintains subsidiaries. This program includes the following activities:
Preparatory visits for teachers
Engineering projects for students
Attendance of the project network's annual conferences by foreign teachers
School partnership exchange
This international program is being provided in cooperation with the Central Agency for Schools Abroad as well as the Educational Exchange Service of the Standing Conference of State Ministers of Education and Cultural Affairs.