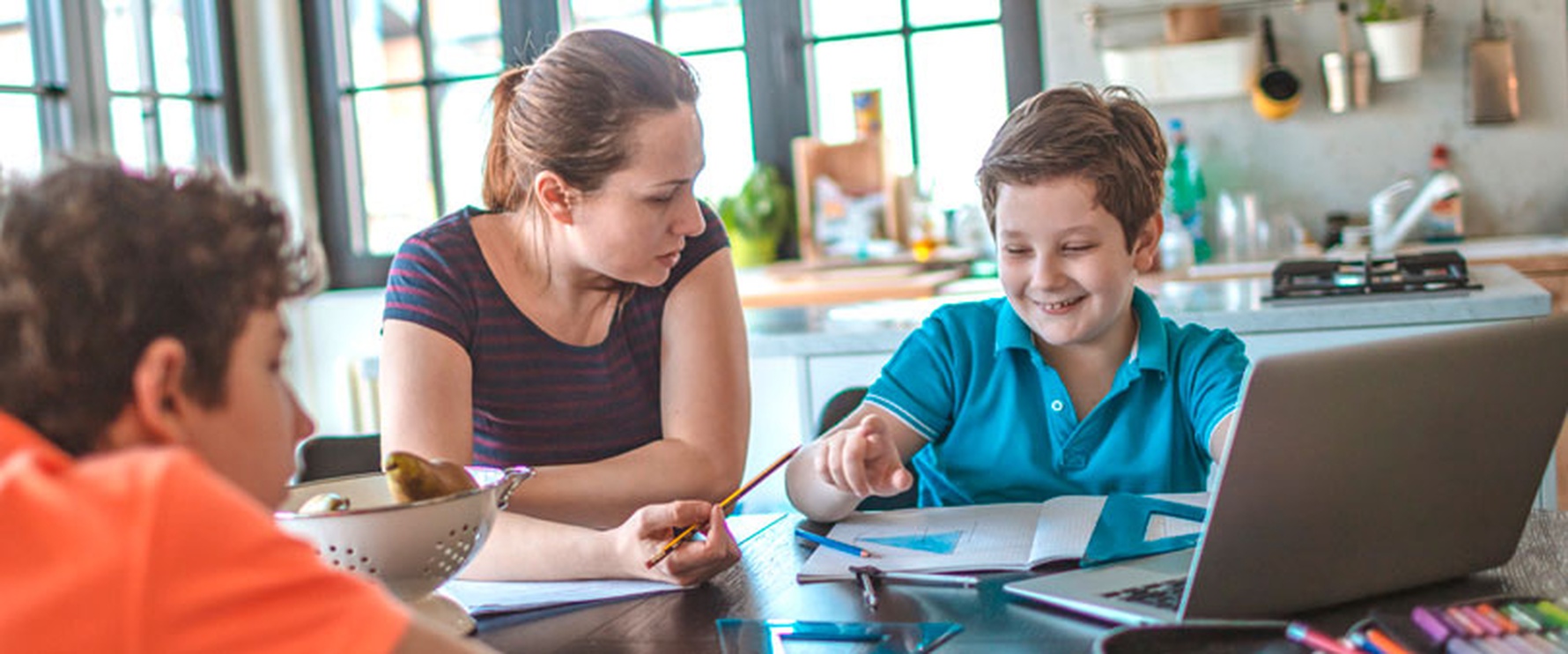 Survey: Children and teenagers view learning at home as positive and feel technologically well-equipped
Bonn. Learning at home has been well-received by children and teenagers, although they sorely miss interacting with teachers and other students. By their own account, students spend roughly 3.5 hours a day studying, most of it in a structured way. They also feel technologically well-equipped. Almost all of them have the equipment needed to do their schoolwork, including laptops, smartphones and desktop computers. Students also give top marks to their workspace at home: Most study in their own rooms or can generally work undisturbed. These are the core findings of a representative survey commissioned by Deutsche Telekom Stiftung, the first of its kind to extensively ask 10- to 16-year-olds about their experiences. The survey also found that schools and teachers have chosen rather conventional ways to cover material during the lockdown by emailing worksheets and assigning texts for the students to read. Few teachers have adopted creative educational methods such as genuine remote teaching, video tutorials or digital group work. Parents are the most important enablers of learning at home.
"These findings clearly show that schools and teachers have no excuse whatsoever not to finally develop creative, digitally supported methods of teaching all types of subjects", says Dr. Thomas de Maizière, Chairman of the Deutsche Telekom Stiftung. "Children and teenagers do very well with online learning; technology does not appear to be an obstacle; and there are plenty of good methodologies. There is therefore no reason why, in the year 2020, high-quality digital classes are a scarce commodity and most teaching takes place via emails. This low-tech approach is detrimental for many classes, particularly the STEM subjects that are so important in our digital world."
What the 10- to 16-year-olds miss the most is interacting with other students, studying together and getting feedback and one-on-one help from teachers. Around 70 percent of respondents cited the lack of contact with their fellow students as the biggest problem caused by the school closures. German, mathematics and English take up the most study time at home. Regarding STEM classes, the 10- to 16-year-olds need the most help from parents, teachers and other students. They do not understand homework problems in, say, physics and computer science as well as in social studies or foreign languages. Homework experiments are possible with digital support, but remain rare nonetheless.
All in all, girls do better with homeschooling than boys. The survey also broke down student responses by school type: Elementary school, Gymnasium (upper secondary school), Realschule (intermediate secondary school) and Hauptschule (lower secondary school). Gymnasium and Hauptschule students were the most positive about studying at home, followed by elementary school students; Realschule students were the least positive.
The surveyed children and teenagers receive the most at-home support from their parents. They mainly turn to their mothers when they have problems studying or need motivation. Fathers come in a very close second and are often consulted about technical questions. Grandparents are contacted more than twice as often (67.7 percent) about motivational issues than teachers (30.9 percent). A mere 52 percent of the children and teenagers stated that they (almost) always receive feedback from teachers about homework or tests that they have completed.
The complete report, with results, in German language is available on the Deutsche Telekom Stiftung website: www.telekom-stiftung.de/homeschooling.
 
About the survey: The online homeschooling survey was conducted between April 19 and 24, 2020 by Accelerom AG, a consulting and research firm, in cooperation with iconKids & Youth on behalf of Deutsche Telekom Stiftung. The survey cohort consisted of 1,016 children and teenagers aged 10 to 16 along with their parents.