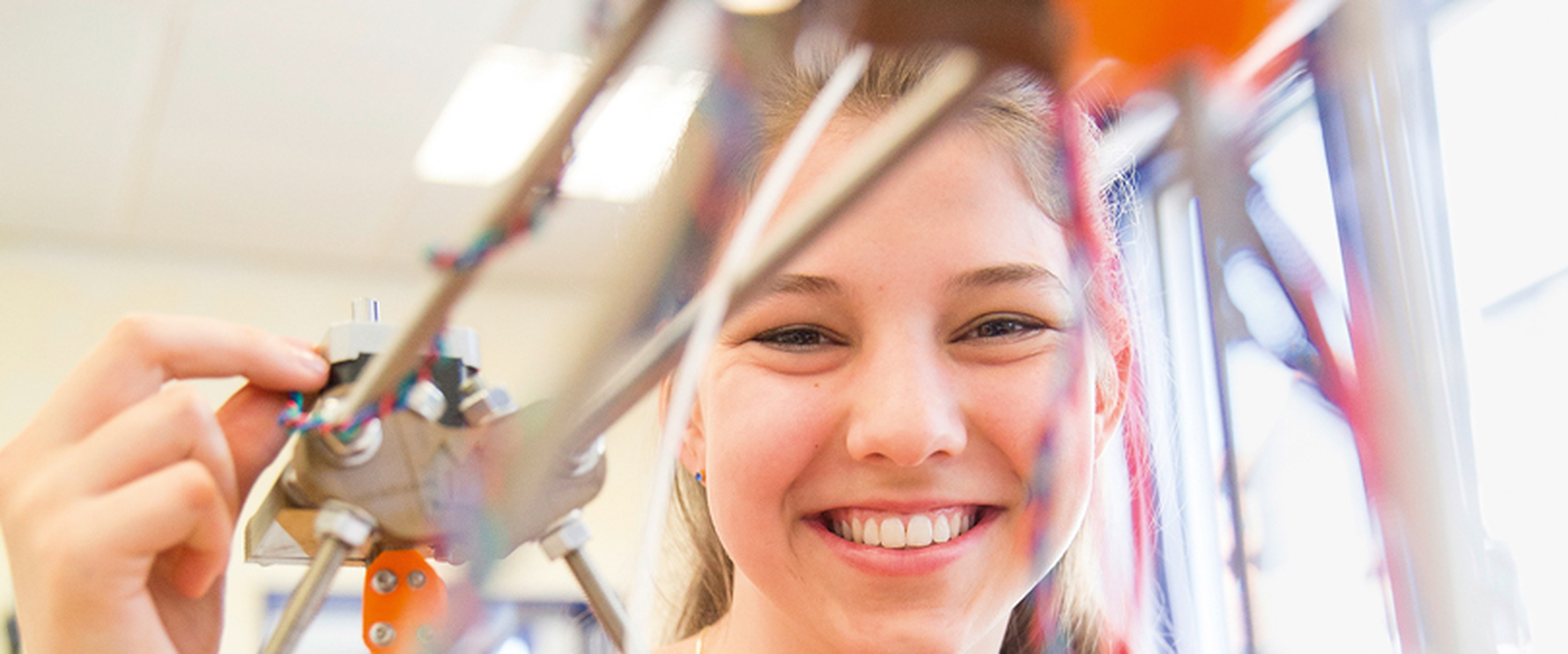 JEA network offers hands-on technology at 99 schools
Results of the Deutsche Telekom Stiftung competition: eleven further schools establish a "Junior Engineer Academy" – connecting schools, science and business – German school in Singapore to have the first overseas JEA – Phineo awards "Impact" ("Wirkt!") label
Can chocolate be printed out as well? Which smart technology helps to avert traffic gridlocks in our cities? And how can a robot be taught human-machine interaction? In the "Junior Engineer Academy" (JEA) young people throughout Germany investigate these and similar questions. They learn about the world of technology in a practical and project-oriented way and get an idea of engineering professions. Since 2005 88 high schools in 14 federal states have introduced the technical subject with the support of Deutsche Telekom Stiftung. This means that the JEA is one of the foundation's oldest and most successful programs. And the network is growing constantly: the latest round of tenders produced eleven further schools that will set up JEAs after the summer vacation, including the German European School Singapore as the first school outside Germany.
"STEM lessons are all too often full of grey theory and students quickly lose interest. The JEA counters this with hands-on technology. The young people are enthusiastic and in many cases they subsequently major in STEM subjects at senior level", says Dr. Gerd Hanekamp, head of programs for Telekom-Stiftung and as chairman of the seven-member jury also responsible for selecting new JEA schools.
The key feature of every Junior Engineer Academy is cooperation between the school and regional partners from science and industry. These partners – for example universities, research institutes or industrial enterprises – support the JEA with their know-how and their equipment and provide the necessary practical relevance. "Not only students benefit from this, teachers do as well as they get direct information about new research results and application developments in their specialist area", says Hanekamp. In addition, networking is a further important aspect: once a year the whole JEA club consisting of around 180 teachers and representatives of extracurricular partners meet to exchange experience and learn from one another. Furthermore, individual schools also cooperate in smaller regional groups.
The objective of the Junior Engineer Academy is to equip young people both personally and professionally for participating in a world that is increasingly shaped by technology. And the achievement of this objective has now even been confirmed by an independent body. Following an extensive examination by the non-profit analysis organization Phineo, as one of 19 STEM education projects in Germany at the end of last year the JEA was awarded the coveted "Impact" label. This label is awarded for effective social engagement – for Deutsche Telekom Stiftung it is a motivation to continue the successful networking of the past twelve and a half years, in future with 99 JEA schools.
An overview of the winning schools in 2018, sorted alphabetically by towns and cities:
| | | |
| --- | --- | --- |
| Name of school | Town/city | Federal state/country |
| Gymnasium Philanthropinum | Dessau-Roßlau | Saxony-Anhalt |
| Geschwister-Scholl-Gesamtschule | Dortmund | North Rhine-Westphalia |
| Paul-Gerhardt-Gymnasium | Gräfenhainichen | Saxony-Anhalt |
| Internat Solling | Holzminden | Lower Saxony |
| Gymnasium Marktbreit | Marktbreit | Bavaria |
| Balthasar-Neumann-Gymnasium | Marktheidenfeld | Bavaria |
| Gymnasium "J. G. Herder" | Merseburg | Saxony-Anhalt |
| Evangelisches Gymnasium | Nordhorn | Lower Saxony |
| Städtisches Gymnasium | Olpe | North Rhine-Westphalia |
| Goethe-Gymnasium | Regensburg | Bavaria |
| German European School Singapore    | Singapore | Singapore |
The JEA is designed as a two-year elective subject for intermediate high school students. Telekom-Stiftung finances the establishment and implementation of the JEAs with up to EUR 10,000 per school. The eleven new schools will be officially recognized at the next national JEA annual conference on 20 and 21 April 2018 in Paderborn. An overview of all schools with Junior Engineer Academies and their focus areas can be found at the project page.