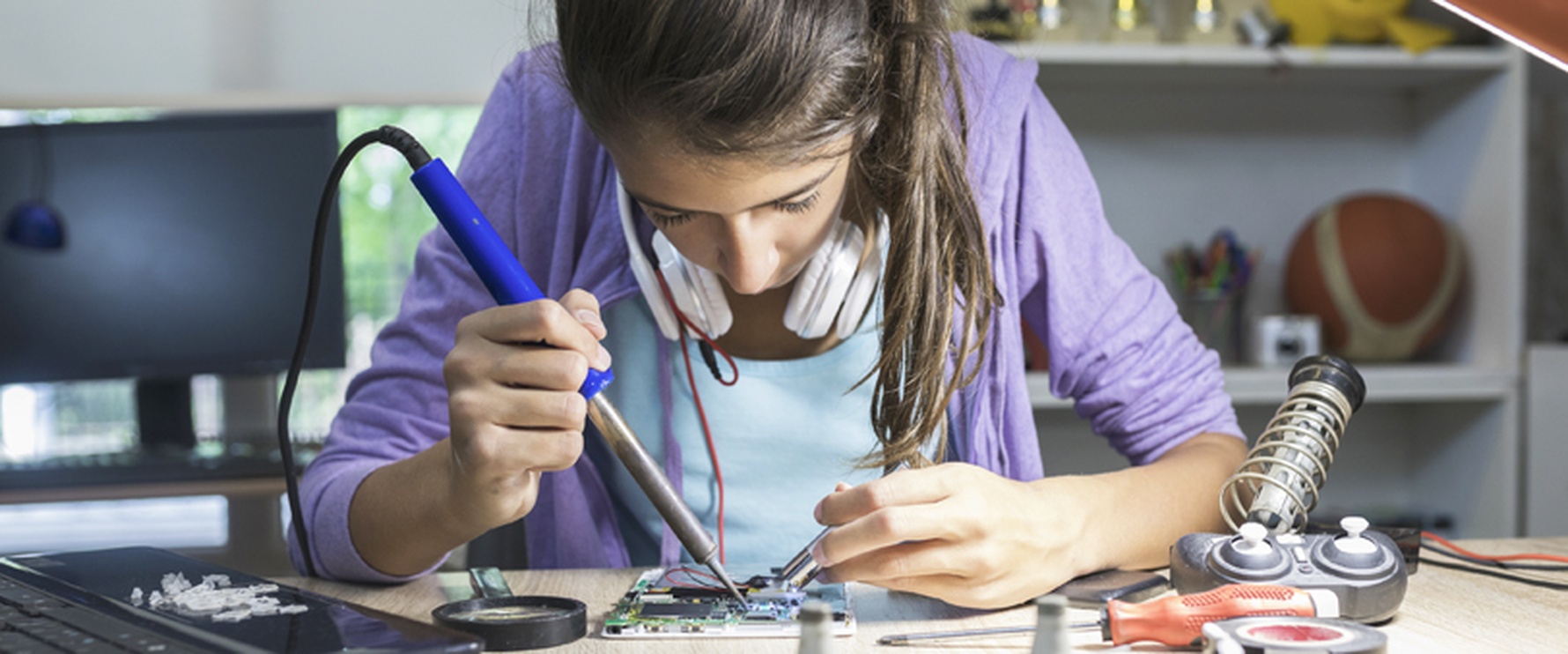 Greece: Deutsche Telekom Stiftung and STEM Education launch "Junior Engineer Academy Network Greece" project
Bonn/Athens: Deutsche Telekom Stiftung is broadening its international activities and is launching a collaboration with the Greek non-profit organization STEM Education, for the "Junior Engineer Academy" project. The "Junior Engineer Academy" has been successfully established by Deutsche Telekom Stiftung  in Germany, and is now being pursued by STEM Education in Greece. The Greek Network of JEA was announced today, during a Press Conference in Athens.  
Deutsche Telekom's charitable foundation has been offering Junior Engineer Academies since 2005 – meanwhile more than 100 schools throughout Germany are taking part in the program. As a two-year subject option for second and third grade Junior High students, the aim of the JEA is to inspire interest among young people in technical, engineering and scientific professions, facilitate their transition from school to university or vocational training, and foster their individual skills in a timely and focused manner. A key feature of the program is establishing and maintaining close contact with businesses and universities, which allows the students to gain some early insight into the working world of engineers and skilled specialists in all areas of technology and the sciences. In Germany, the network of JEA schools has developed a vibrant platform devoted to fostering exchange of experience and the development of innovative teaching approaches in the field of science and technology education.
In Greece, STEM Education is dedicated to the promotion of Science, Technology, Engineering and Mathematics in schools throughout the country.  
With the JEA project, beginning from the school year 2019/2020, STEM Education has established 15 Junior Engineer Academies throughout Greece, from Xanthi and Ioannina, to Patras and Thessaloniki. The non-profit organization has a long-term strategic partnership with the Greek telecom operator COSMOTE, sharing the same goal to enhance STEM education in Greek schools. COSMOTE will therefore support one additional Junior Engineer Academy, based on a separate funding agreement with STEM education.
All 16 schools have been provided with necessary equipment for the program (3D printers, gears, batteries, Arduino uno etc). More than 1,500 students are on board at these Academies, whereas 45 teachers have already started their trainings for JEA.
The project will run until June 2021 and the students will work on 28 different projects. The knowledge gained will be used by both partners for the further development of the project activities.
Dr. Ekkehard Winter, Executive Director of Deutsche Telekom Stiftung, said: "Preparing young people at an early stage for the digital society and the professional world is one of our core goals. To achieve that, generating enthusiasm for technology and technical skills is essential. In STEM Education, we are delighted to have found a capable partner for launching our successful Junior Engineer Academy program in Greece."
Mr. Ioannis Somalakidis, Managing Director of STEM Education said: "More than 1,500 Junior High School students in Greece, now have the opportunity to discover technology, engineering and science, while developing STEM skills. At the same time they can understand better what the engineering and technical professions are all about. We are very pleased to work closely with Deutsche Telekom Foundation for such an inspiring common goal in relation to the future of our children."
"Helping young children in Greece develop their digital skills and creativity is part of OTE's  vision for a better world for all through technology. Through our initiatives, more than 18,000 students have developed their STEM skills", said Stavroula Aggelopoulou, Corporate Responsibility Deputy Director, OTE Group.
The following 15 Junior High schools are participating in the Junior Engineer Academy network in Greece:
6th Junior High School of Xanthi (Xanti)
4th High School of Paleo Faliro (Athens)
2nd High School of Nea Makri (Athens)
High School of Metamorfosis – Irakleio (Athens)
Ionidios Model Junior High School of Piraeus (Athens)
1st Junior High School of  Rafina (Athens)
2nd Junior High School of Kifissia (Athens)
Junior High School of Peta (Arta)
2nd Junior High School of Evosmos – Ioannis Kakridis (Thessaloniki)
1st Junior High School of Oreokastro (Thessaloniki)
6th Junior High School of Thessaloniki (Thessaloniki)
2nd Junior High School of Ioannina Intercultural Education (Ioannina)
1st Ioannina Junior High School (Ioannina)
Junior High School of Lakkopetra Achaia (Lakkopetra) and
EN.E.E.GY-L. Patron and Special Vocational High School of Patras (Patras).
The Junior Engineer Academy at the Ralleion Junior High for female students (Pireus) is supported by COSMOTE in cooperation with STEM Education.
The Greek network is the second JEA network outside of Germany – after the successful cooperation of Deutsche Telekom Stiftung with the Croatian foundation Institute for Youth Development and Innovativity.
Deutsche Telekom Foundation:
Deutsche Telekom Foundation was established in 2003 to strengthen Germany's position as an education, research and technology leader. Today, it is one of the country's large corporate foundations with an endowment of EUR 150 million. The foundation supports projects in science, technology, engineering and mathematics (STEM) that are intended for young people aged 10 to 16.
STEM Education:
STEM Education is a non-profit organization conducting educational programs to familiarize children of all ages with STEM Education in Greece. STEM educational programs, which is an innovative educational method, enhance childrens' creativity, discovery and team work.