Dr. Thomas de Maizière
Chairman Deutsche Telekom Stiftung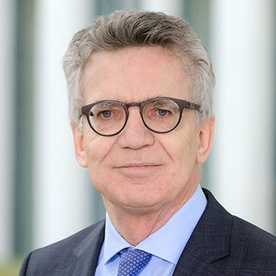 Thomas de Maizière was born on January 21, 1954 in Bonn.
After completing his schooling and compulsory military service, he studied law and history from 1974 to 1979 in Münster and Freiburg. After passing the first state examination in law and completing the required period of practical in-service training, he completed his law degree with the second state examination, which he then followed with a doctorate in 1986. From 1985 to 1989, de Maizière worked in der Berlin Senate Chancellery as a speechwriter and head of the basic policy matters section, and later on as press spokesman for the Christian Democratic parliamentary group in the Berlin Chamber of Deputies. In 1990, he was invited by his cousin, Lothar de Maizière, to work as an adviser on the staff of the last government of East Germany.
He was chosen as a member of the delegation entrusted with negotiating the German reunification treaty and played an active part in the reunification of Germany.
After reunification of the country, de Maizière was appointed as a secretary of state in the Ministry of Education of the newly formed state of Mecklenburg-Vorpommern. From 1994 to 1998, de Maizière headed the State Chancellery in Schwerin. From 1999, he performed a similar function as a minister in the Free State of Saxony. In 2001, he became the finance minister of Saxony, from where he moved in 2002 to the Justice Ministry, and in 2004 to the Ministry of the Interior. In 2005, Thomas de Maizière was appointed head of the Federal Chancellor's Office, and four years later German Minister of the Interior. From 2011 to 2013, he held the post of German Minister of Defense, and then served again from December 2013 to March 2018 as German Minister of the Interior. He was a directly elected member of the German Federal Parliament from 2009 to 2021. Since November 2018, Thomas de Maizière has been chairman of non-profit Deutsche Telekom Stiftung.