Dr. Christian P. Illek
Member of the Board of Management for Finance (CFO) Deutsche Telekom AG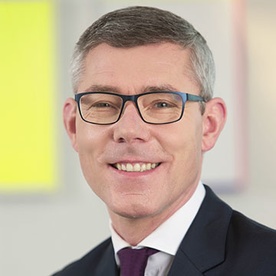 Dr. Christian P. Illek, born in 1964 in Düsseldorf, has taken up the post of Chief Finance Officer at Deutsche Telekom on January 1, 2019. He has been a member of Deutsche Telekom's Board of Management since April 2015 and was responsible for Human Resources.
Dr. Illek's previous position was Chairman of the Management Board at Microsoft Germany, a role in which he shaped flexible working time models for the company by getting rid of the strict obligation to work from the office. From April 2010 to September 2012, he was Director of Marketing at Telekom Deutschland GmbH. In this position he was responsible for all marketing activities for both consumers and business customers in Germany. He was also in charge of the Wholesale Center and the Value-Added Services Center, as well as international product development for Deutsche Telekom's fixed-network, IPTV, convergent and business customer portfolio.
Before being appointed as a member of the T-Home Board of Management (at the beginning of 2007) and Marketing Director at T-Mobile (in May 2009), Dr. Illek held various managerial positions at Bain & Company and at Dell, in both Germany and in Switzerland.
Dr. Christian P. Illek studied chemistry and business administration in Düsseldorf and Munich, beginning his career at the University of Munich in 1989.
Since January  2019, Dr. Christian P. Illek has been the Member of the Board of Management for Finance (CFO) fort the non-profit Deutsche Telekom Stiftung.