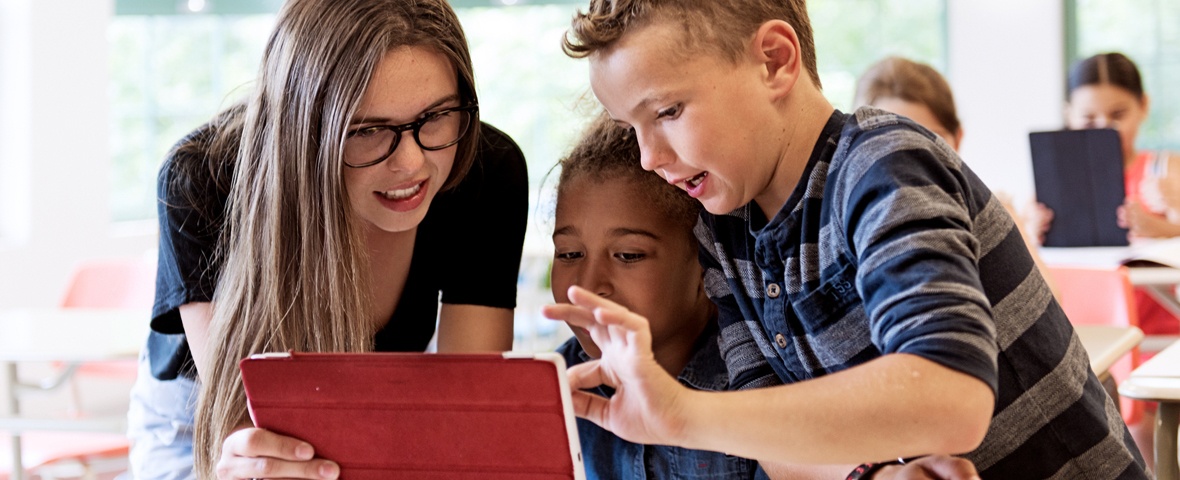 Digital Learning in Elementary School
Using digital media skillfully
Many elementary school teachers need more support when using digital media in class. This requires additional, different training. To help, Deutsche Telekom Stiftung is supporting the Universities of Education of Ludwigsburg and Schwäbisch-Gmünd as well as the Universities of Bremen, Hamburg and Potsdam. Each of these institutions was selected in a competitive bidding process. They have developed and tested methods for productively using digital media in elementary school classes until 2018.
Universities are collaborating with elementary schools to evaluate and improve teaching in real-life scenarios. The higher-learning institutions are outfitting the schools with "university classes" developed by the Ludwig Maximilian University of Munich. These are digitally equipped classrooms in which classes are video-recorded. The classrooms are used to train college students majoring in education and, in the future, licensed teachers.
As part of this project, Deutsche Telekom Stiftung supports the nationwide distribution of Calliope Mini, a child-friendly minicomputer designed to help elementary school students take their first steps in the world of programming. Deutsche Telekom Stiftung is developing and testing teaching materials and educational concepts to ensure the Calliope Mini's effectiveness as a classroom tool nationwide.