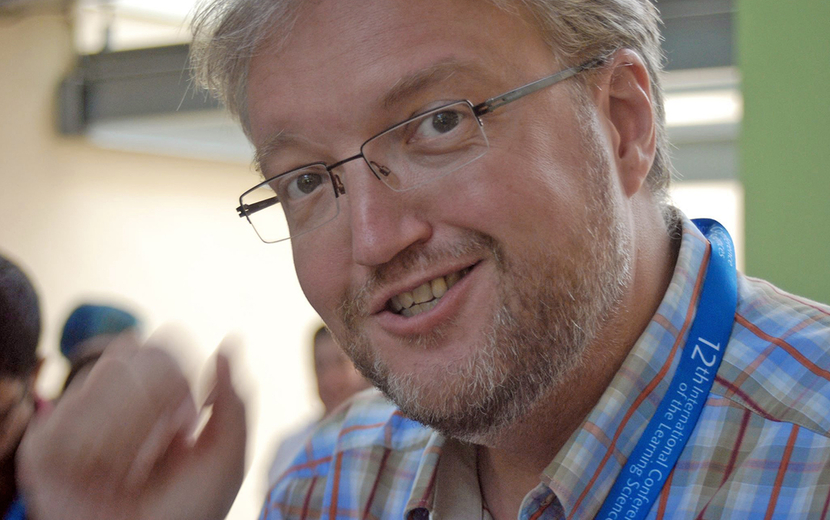 Teachers and computer scientists blaze new trails together
Interview with Professor Armin Weinberger about University of Saarbrücken's Master in Educational Technology program
Classrooms with intelligently integrated digital learning worlds are the way of the future. While many schools embrace the basic concept, its everyday implementation often looks quite different due to a lack of technical or educational support. At the same time, researchers are already deliberately building bridges between computer science and education studies, thereby creating compelling virtual learning environments with real added value. One such researcher is Professor Armin Weinberger, who oversees a Master in Educational Technology program at Saarland University in Saarbrücken (Germany).
Digital classrooms in schools are still the exception, not the rule. Why is that?
The very first thing we need to do is to put ourselves in the position of the teachers. Many of them have, with good reason, the feeling that new responsibilities are constantly being piled on top of their already considerable workload. This has split teachers into two camps – those who welcome the new technologies and those who just don't have the resources to take a closer look at digital learning worlds. And then you have some teachers who are fundamentally opposed to the change. After all, many teachers got their degrees without ever having heard of digital learning technologies.
What, from your point of view, is the best place to start solving this problem, and how can you offer concrete assistance?
Here's an example. We developed a free online seminar especially for this target group. We have learned that we need to make it clear to teachers that although new technologies involve more work in the short term, they will make teaching easier over the medium and long term. After all, our objective is to make learning better and more efficient over the long run.
And then there's the technical aspect. It's not enough to simply equip schools with IT hardware – which is expensive and quickly becomes obsolete – and then disappear. We have to focus on developing didactic concepts for what digital teaching tools we want to integrate, and how exactly we want to do it. This is known as "instructional design."
In addition, schools should be vigorously encouraged to embrace innovation by, for example, rewarding them with bonuses if they cooperate with universities or promote technology-supported learning. All three factors will have to be coordinated if we want to effect a true cultural change.
Saarland University launched the Master in Educational Technology program in 2011. Which one of your expectations did you have to correct first?
That's a good and important question. First, we managed to secure the support of world-class education researchers, computer scientists and other universities. That's not something you can just take for granted. What surprised me, though, was the high pressure we came under, and are still under, to justify our decision. We keep having to explain to people why it is worthwhile to combine technology with education. Often, public interest is still limited to concerned questions like: Do computers and social media harm children's development?
As future teachers and developers of learning environments, you want your students to be able to understand and apply the technological toolkit of the 21st century: social media and networks, online tools, multimedia, simulations and micro-worlds, educational games as well as mobile learning with smartphones and touchpads ...
Exactly. And the basic question motivating us is this: How can we combine conventional learning in school where the teacher covers the material in traditional ways with what students learn outside the classroom – and translate both into modern learning arrangements? This can be done, for example, by collecting data during an excursion to the forest or at the sports club and then analyzing this data in class. We are seeing all over the world that students are beginning to lose interest in school as early as in the second grade. You could accept that as inevitable. But it is this self-determined learning, the students' interest in determining what they learn about, that offers an opportunity to fight the students' frustration and keep their commitment alive.
Can you give us examples of your learning environments?
We have, for example, developed Facebook apps which allow the students to have spirited and yet constructive discussions. The young people are given what we call "cooperation scripts", such as beginnings of sentences, which we use to encourage productive interaction patterns. Our experience is that this increases the quality of debate significantly among the students. And the students have a lot more fun learning in this way than when studying by themselves.
We also offer massive open online courses, or MOOCs. We are in the process of developing online learning courses, for example for fishermen whose fishing grounds have been depleted and now want to venture into eco-tourism, especially in remote regions in Southeast Asia. In our MOOCs, we are also showing single mothers how they can start their own micro business. Obviously, the ideal thing would be to offer support in person, but MOOCs are an efficient alternative if there aren't enough local coaches.
Your master's program brings together education, psychology and computer science ...
That's right. Put simply, we are teaching computer programming to education researchers and social science research methods to computer scientists. Without anyone giving up their professional identity. What we want is for the experts in various fields to understand each other. We deliberately put together multidisciplinary working groups with a broad range of knowledge. It is only when these teams speak a common language that they truly master the complex challenges in this area.
How do you ensure that the concepts and projects you and your students are developing will work in practice later on?
It is obviously wonderful if learning software that we have developed proves to be valuable in the classroom. However, we also want to be able to pinpoint what design principles of this software work in practice and apply those factors to other tools. This allows us to find out how we can support specific learning mechanisms.
For example, we go into schools and investigate how a developed learning program is accepted at the school and whether students have learned what they're supposed to. Our focus is on analyzing the process – meaning: How exactly do students learn? What do they talk about when they learn? What are their gestures and facial expressions? All this gives us valuable insights into the young people's cognitive processes. This is becoming more and more important to us researchers, because the learning processes of the future will evolve away from the pure screen experience to haptic, physically tangible experiences.