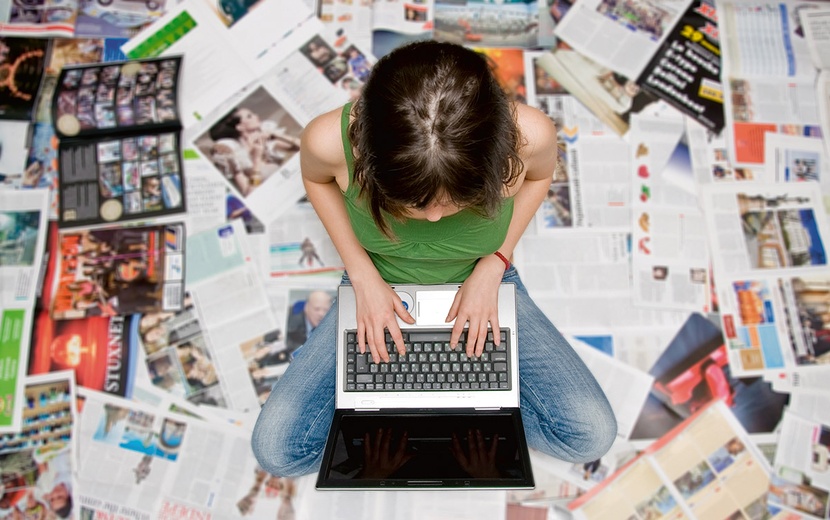 Smart sourcing tips from the pros
Schools are technically supposed to teach teenagers how to use and critically evaluate internet content. However, this job is being done by more and more outside players. Including journalists and librarians.
The picture looks harmless at first: It shows a silver Mercedes that has stopped at the side of the street. The car door is open, and next to it stands a woman in a black overcoat with a headscarf. She seems to be walking toward a building on the corner, where other women – also Muslims, judging from their clothing – have gathered. There aren't many other facts to distill from the scene. Still, the snapshot was posted to Facebook in March 2018, shared tens of thousands of times in only a few days and spawned a flood of hate-filled reactions – all due to the smug comment that the user added when uploading the photograph: "Taken outside the Landau food bank today. Seriously?" His meaning was clear: Foreigners who can afford luxury cars are exploiting Germans' generosity! Or, as someone more harshly put it in the comments, "These headscarf Indians drive up in their big Mercedes and eat up all the food, leaving nothing for needy Germans."
But what about this post was actually true? Nothing, as it turned out. The picture did indeed show the Landau food bank. However, a food bank employee publicly noted the next day that the car's owner had actually transported a German retiree to the food bank who could no longer make it there on foot. Also, she added, when the food bank handed out food, it carefully assessed who was indigent and who was not.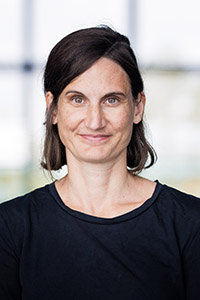 Carolin Gasteiger occasionally mentions this picture whenever she visits a class of kids to talk about her work. It shows students how easy it is for lies to emerge and spread in a world dominated by Twitter, WhatsApp and Facebook. Gasteiger is a journalist at Süddeutsche Zeitung, a German daily newspaper. She verifies facts and checks sources for a living. Who better to teach teenagers how to critically evaluate content they see on the internet?
That sums up her employer's thoughts, too, which is why it instituted the "SZ Workshop Talks" some time ago. Since then, Gasteiger and many other journalists regularly visit Bavarian schools to heighten teenagers' awareness of fake news and give them some practical tools for identifying disinformation. Süddeutsche Zeitung isn't the only news outlet working on this issue. As part of the "Journalism Goes to School" initiative, numerous newspapers and television stations send journalists to schools to talk to students. The media outlets even provide teaching materials.
"I start out by talking to students about what I do and explaining how we obtain information and verify it with two independent sources," says Gasteiger. Questions about fake news will eventually come up all on their own. She makes sure to point out that not all half-truths and misreported stories are specifically put out by evil forces and self-interested parties. On the contrary, anyone can fall into the trap of carelessly spreading a rumor. For example, during the July 2016 mass shooting at the Olympia shopping mall in Munch, terrified people spent hours spreading reports on Twitter that shots had allegedly been fired at Stachus Square and the main train station. Crowds at these locations panicked, injuring many, even though the shooter was long dead at that point. "In the heat of the moment, someone may tweet that they just heard shots when all that really happened is that a nearby door slammed shut," the journalist explains. She recommends that students think twice before posting anything. In exceptional circumstances, she also advises that they first check for reports from official sources such as the police before passing on unconfirmed rumors.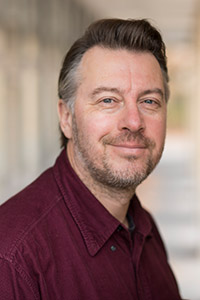 According to a recent Allensbach survey, only around 20 percent of 10- to 16-year-olds admit to occasionally struggling to ascertain whether information they have read or heard is actually true. Professor Marc Stadtler at Ruhr University Bochum has his doubts. "It's a clear case of overconfidence," notes the competency researcher. He points out that German and international tests have shown that young people believe far too much of what they read on the internet and rarely even double-check the source information. Stadtler puts much of the blame on schools: "This topic is just not being taught. However, schools cannot afford to gloss over it – it's far too important." And so it only makes sense, in his view, that other parties who professionally handle sources and information have stepped into the breach and provided much-needed education.
One of these parties is Hardy Warlich. The university-trained librarian works at the Leibniz Information Center for Science and Technology and University Library in Hanover (the "TIB"), the world's largest science and technology library (also see page 33). As the Head of the Central Information Desk, he is responsible for helping students and researchers find literature. However, the TIB has added young people to its target groups. Somewhat involuntarily at first, as Warlich will admit. For the past few years, all upperclassmen at college-preparatory high schools in Lower Saxony have had to write a term paper as an introduction to conducting and writing up research. It was overwhelming in the beginning – not just for the students, but for their teachers, too, recalls Warlich. "Some of them gave students topics that would have been worthy of a doctoral dissertation. And with their topic in hand, these students were supposed to go to the university library and do their research. So we suddenly had this huge influx of 16- and 17-year-olds at our information desk who had no idea what they were supposed to do."
Warlich and his team responded by holding various training sessions specifically for students. In them, students learn how to research properly on the internet, adequately assess online sources and cite them in a term paper. They also practice spotting fake news. The events also introduce young people to the library catalogs and provide hands-on exercises in which students learn the best ways to research literature. This last item was particularly important to Warlich: "Most of today's high-school students have been socialized through Google and rarely dig any deeper than that. It isn't until college that they realize that they can't just cite three Wikipedia articles in their paper's bibliography." In that sense, Warlich views the TIB's student training sessions as investments in the future. After all, many high-school seniors will one day be college freshmen.
The TIB in Hanover is not the only library reaching out to teenagers. Many others currently offer similar seminars or workshops. Warlich truly enjoys working with his young visitors: "It's inspiring to see them work with you, take your advice – and then end up heading home with three or four concrete sources for their term papers."
Gasteiger also finds her workshop talks in schools to be invariably enriching. Although she knows that her impact is limited to a mere 90 minutes per class. Especially because so many young people never pick up a printed newspaper these days. "They read whatever gets dumped into their cell phone's timeline instead of sticking to one medium. Some even say that they don't stay up with the news at all." Nonetheless, she feels the time spent with the students is important and informative. "I'm satisfied if four or five students leave that 90-minute class saying, 'Wow, that was interesting!'"
This story was first published in issue No. 8 of our education magazine sonar.
Text: Daniel Schwitzer
Photos: badahos/iStock.com, Friedrich Bungert, Christian Bierwagen