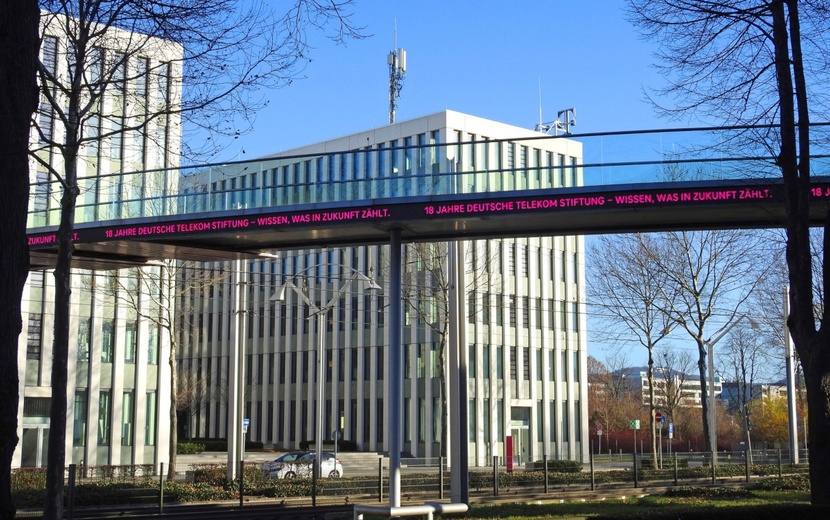 Our foundation turns 18
Die Deutsche Telekom Stiftung wird in diesem Jahr volljährig. Seit nun mehr 18 Jahren machen wir uns dafür stark, Menschen für technische, mathematische und naturwissenschaftliche Themen zu begeistern. In dieser Zeit haben wir viele Lernbegleiter, Kinder und Jugendliche, aber auch Eltern mit unseren Projekten unterstützt. Um einen Einblick in unsere vielfältige Arbeit zu ermöglichen, haben wir 18 Highlights aus 18 Jahren Telekom-Stiftung zusammengestellt.
2004

Doctoral Scholarship

Deutsche Telekom Stiftung's first project was a scholarship program for doctoral students in STEM fields. Up to twelve young researchers received support each year in the form of mentors, exclusive seminars and workshops. 130 scholars received scholarships until the program expired in 2018.

2004

Pre-college Programs

Pre-college programs were funded by Deutsche Telekom Stiftung between 2004 and 2019. Today, over 60 higher-learning institutions allow high-school students to attend STEM classes and pursue degrees while still in school with the foundation's support.

2005

Interactive School

Four schools in Hesse, North Rhine-Westphalia and Saxony started exploring effective ways to use digital media in class in 2005 with the foundation's support. A true pioneering achievement! Three short years later, the project network spanned 60 schools that developed more than 100 lesson plans.

2008

Year of Mathematics

The Year of Mathematics was the first science year that had a private-sector partner: Deutsche Telekom Stiftung. When it drew to a close with a huge send-off gala in Cologne in December 2008, one thing was abundantly clear: It was also a science year with record-breaking engagement. Over 500 partners participated with around 760 events.

2009

Class boxes

Between 2005 and 2009, Deutsche Telekom Stiftung distributed more than 1,600 Class Boxes containing physics experiment kits to elementary schools across Germany – from List on the North Sea island of Sylt to Sonthofen in the Bavarian Alps. The sets helped teachers explain scientific concepts.

2011

German Center for Mathematics Teacher Education

The German Center for Mathematics Teacher Education (DZLM) is the only center for educating and training mathematics teachers in Germany. Deutsche Telekom Stiftung established the DZLM in 2011 and invested over 10 million euros in the project all told. The center has been operating as part of the Leibniz Institute for Science and Mathematics Education (IPN) in Kiel since 2021.

2012

"Forschergeist"

The "Forschergeist", awarded between 2012 and 2020, offered the most prize money (EUR 80,000 in total) of all the day care competitions in Germany. It was presented by Deutsche Telekom Stiftung and the Little Scientists' House Foundation. It recognized the dedication of early childhood educators who made STEM subjects a regular part of activities at day care centers.

2013

FundaMINT

Deutsche Telekom Stiftung has been operating FundaMINT, a scholarship program intended specifically for STEM teachers, since 2013. Up-and-coming teachers receive financial assistance along with various seminars on topics that will figure prominently in their future careers. Scholarship recipients also have the option of gaining international experience through Klaus Kinkel Scholarships, which the foundation has been awarding since 2006.

2014

Media Award for Education Journalisms

Deutsche Telekom Stiftung honored exceptional contributions to education journalism between 2014 and 2019. This was Germany's only prize for education journalism. It was intended to recognize excellence in education journalism and raise societal awareness of issues in education.

2015

Digital School - The State Indicator

In 2015, Deutsche Telekom Stiftung unveiled the State Indicator: a study that presents key aspects of digital education from the teachers' perspective. Developed by the Center for Research on Education and School Development at TU Dortmund University, the study compares the degree to which each German state has digitalized its schools. The foundation published a new edition of the study in 2021.

2016

GestaltBars

The GestaltBar was first piloted in 2016 in cooperation with the Bonn House of Youth and the Karl Simrock School. By 2021, the nationwide network had grown to more than 40 digital workshops. The program targets schools where most of the students intend to pursue a vocational training program. The teenagers learn how to creatively use digital media for 3D printing, building robots or other pursuits in cooperation with outside partners.

2018

Junior Engineer Academy

This project focuses on teaching technical and engineering subjects to students at college-preparatory middle and high schools. The Junior Engineer Academy (JIA) network currently contains 104 schools. Four graduates of the Leipzig Junior Engineer Academy developed "Dezibot", a robot kit for IT classes at schools. In 2018, the teenagers were invited to Las Vegas and presented Dezibot at an international conference.

2018

German Future Prize

Jülich-based physicist Peter Grünberg received the German Future Prize in 1998 for his discovery of the GMR effect that prompted a quantum leap in hard disk technology. Deutsche Telekom Stiftung supported the prize, which was presented by Germany's Federal President, until 2018. However, the honors had just begun for Grünberg: He won the Nobel Prize in 2007.

2019

Digital Trade School

Deutsche Telekom Stiftung worked with ten trade schools in 2018/2019 to develop methodologies for improving trade school students' IT and media skills. Teachers can access the resulting materials for free online.

2020

Yes, I can!

This nationwide initiative by Deutsche Telekom Stiftung helps child and youth welfare projects and organizations teach young people from socially disadvantaged backgrounds the hard and soft skills that the digital world demands. One of the project highlights occurred in Kempten in 2020: Teenagers working in cooperation with the Thingers Youth Center developed an escape game-style mystery suitcase. Their project received the German Multimedia Award.

2020

Volunteer Reader

Between 2015 and June 2021, Deutsche Telekom Stiftung and Stiftung Lesen supported volunteers who read STEM-related books to children in order to present technical or scientific phenomena in a fun way. Due to the COVID-19 pandemic, the "From Reading to Experiencing" conference in September 2020 had to be held virtually. It was a resounding success, attracting over 400 national and international attendees.

2021

"Best of decade" ICMA Award

Foundation projects and communication campaigns win accolades time and again. In 2021, Deutsche Telekom Stiftung's 2018 Annual Report, entitled "Taking Effect", won the International Creative Media Award (ICMA) in the "Best of Decade" category. The prize recognizes exceptional and innovative designs and concepts between 2010 and 2020.

2021

Erdensache

In November 2021, the foundation launched its first big project for children and young people: Earth Matters. 13- to 17-year-olds can use the online platform for developing ideas for a sustainable future, share them with like-minded people and launch projects together.
Fotos: Adobe Stock/DariaChich, Deutsche Telekom Stiftung, Deutscher Zukunftspreis, Klaus Hartmann, Michael H. Ebner, Norbert Ittermann, industryview/iStock, Sanneberg/Shutterstock