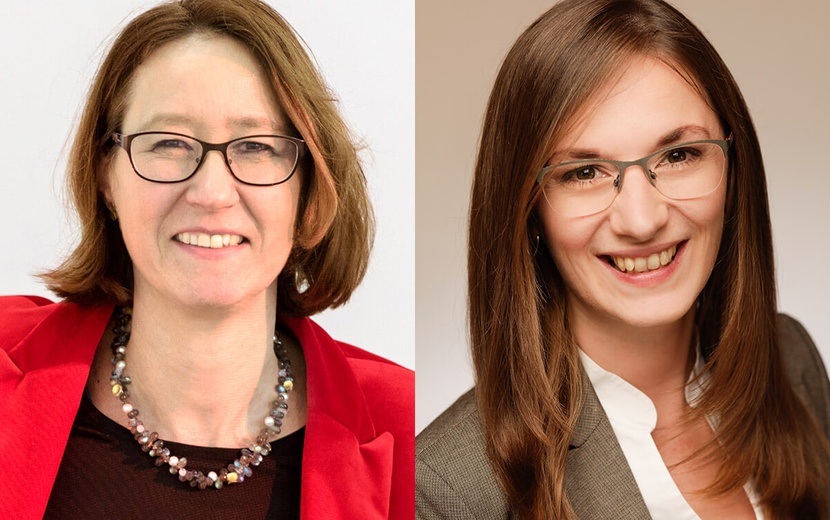 One tablet for every student – vital goal or dead end?
We asked the educational scientists Ulrike Cress and Ramona Lorenz about the ideal IT set-up for schools.
All around the world, countries are investing heavily in digital infrastructure for their schools. But what goal should they be pursuing: one-to-one computing with a digital device for every student – or are there more sensible alternatives? To learn more, we talked to Dr. Ulrike Cress, Executive Director of the Leibniz Knowledge Media Research Center (IWM) in Tübingen and a professor of psychology at the University of Tübingen, and Dr. Ramona Lorenz from the Institute for School Development Research at TU Dortmund University.
What's the ideal IT set-up for every school?
Cress: First, you want to ensure that digitalization is being wholeheartedly embraced. Every classroom should be equipped with broadband internet access. Not to mention powerful hardware to handle the basics – a video projector, whiteboard and a number of digital devices for the students. Other aspects are at least equally important, such as locally installed software and a cloud-based IT infrastructure that can be used to access teaching and learning materials from every school. This should enable closer connections between teachers and students.
Lorenz: Ms. Cress brought up an important point: internet connectivity. Reliable broadband internet connectivity needs to be available throughout the schools so that students are generally free to use digital media no matter where they might be on campus. The remaining IT equipment is dictated by the schools' media programming. Schools definitely need outside support: partly to develop and refine their own media programming, and partly to learn about technologies and digital learning scenarios and assess their potential for classroom use. Faculty often lack in-depth knowledge of new technologies, and there isn't enough time – especially in short-staffed schools – to understand them, discuss the pros and cons and then make an informed decision with broad faculty buy-in. Without outside support, schools could end up merely replacing their current IT equipment and improving its availability – thereby overlooking an invaluable opportunity to make further progress in school and lesson development in the age of digitalization.
Dr. Lorenz, what do you believe are the most compelling arguments in favor of 1:1 computing?
Lorenz: Giving every single student a digital device to use unlocks so many benefits: from immediate, situational access to content and information all the way to self-directed learning at the student's own pace. However, students will only use digital resources confidently, effectively and appropriately if they receive systematic guidance and oversight from their teachers.
1:1 computing also enables schools to better prepare students for future personal and professional challenges in all thoroughly digitalized areas of life. We can combat divisions in society if we weaken the link between a student's socio-economic status and his or her access to digital media and ability to become fluent in the use of digital media and digitally communicated information.
Professor Cress, why shouldn't we work toward 1:1 computing at school?
Cress: Ms. Lorenz, I agree that 1:1 computing is the ideal scenario. But there's no realistic way to pay for it all at once. Also, there are scenarios – such as elementary schools – where it wouldn't make sense for every student to sit at a separate computer and write away on his or her own. In these scenarios, it makes more sense for students to share devices as they research things on the internet or produce a video clip in a group. It's more important to find ways to encourage certain types of social interactions around learning.
With older students, you can introduce alternatives to 1:1 computing such as "bring your own device" programs since the vast majority of teenagers have modern mobile devices anyway. Individual needs would still have to be met: schools would have to provide a limited number of touchpads or laptops for students who can't afford devices of their own.
What should we prioritize initially once schools begin receiving funding for digitalization?
Cress: Our top priority should be teacher training. Ideally, new teachers who are just finishing up their degrees should already have been specifically trained how to use new media in the classroom. Older teachers will have to be brought up to speed as quickly as possible so that they can effectively integrate digital learning scenarios into their teaching. Obviously, they also need to be given access to relevant lesson plans and content; open educational resources could play a big role in that respect.
Lorenz: I agree. After IT equipment and media programming, training teachers in digital best practices is a key priority that needs to be addressed early on. First, though, available continuing education courses should be reviewed and then revised if needed. The teacher preparation teams – the Kompetenzteams – that support schools may have to receive digitalization training as well. The professionalization of various levels of our educational system is just as important as cutting-edge IT equipment for the successful implementation of DigitalPakt, the German government's digitalization initiative, and for the preparation of our school system for tomorrow's challenges.