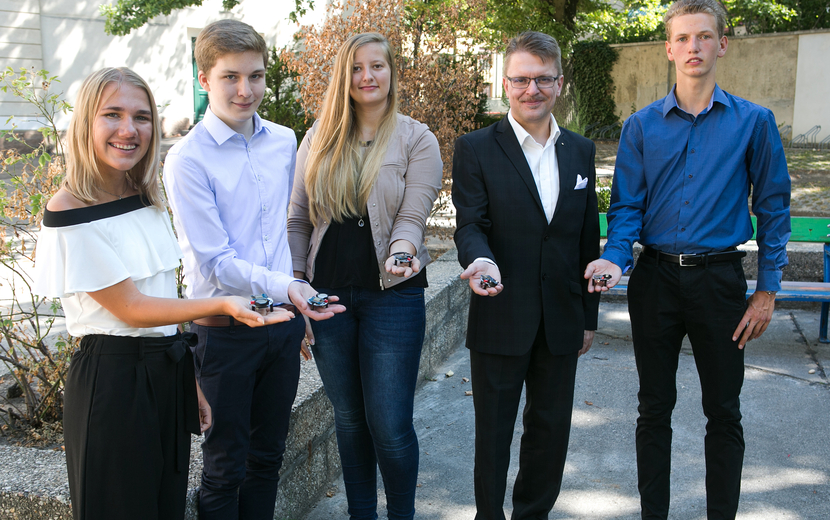 From Leipzig to Vegas
Junior Engineer Academy graduates present their own mini computer at U.S. conference 
In more normal circumstances, they would probably be spending their vacation at a pool or lake. This summer, however, Anina, Anton, Hans and Saskia, four high-school students from Leipzig, are in for a much bigger adventure. The 17-year-olds are traveling to Las Vegas in early August to attend the World Congress in Computer Science, Computer Engineering & Applied Computing (CSCE 18), one of the world's largest and most important computer science conferences. They will be presenting their innovation to an expert audience: a robot kit for computer science lessons at schools – the "Dezibot".
With the Dezibot, students can learn how to program and control a robot in real life. It has multiple sensors, is battery-powered and can connect to networks via Wi-Fi. Plus, thanks to its small size, it is easy to transport and fits in any school backpack. The most compelling argument, however, is its price. Instead of costing several thousand euros like most other robots, the Dezibot can be had for less than ten euros – perfect for schools that can thus afford to buy the midget machine as a classroom set.

"The reviewers don't know that we're still in high school"
The four teenagers developed the Dezibot back in 2015 while taking part in the Junior Engineer Academy (JEA). Initiated by Deutsche Telekom Stiftung, JEA classes are taught at three different college-preparatory high schools in Leipzig. One of the partners is the University of Applied Sciences (HfTL) in Leipzig. Joined by Jens Wagner, at the time a professor for computer engineering at HfTL, the students asked how computer science classes could be made more hands-on. It didn't take them long to come up with the idea of a robot kit. And then, when the Junior Engineer Academy ended after two exciting years, Anina, Anton, Hans and Saskia decided to keep the project alive in their spare time with support from Professor Wagner.
Wagner is delighted by the students' commitment and creativity: "They set ambitious goals for themselves and persevered in spite of the difficulties." Still, the teenagers would never have dreamed of one day presenting their research at the prestigious CSCE. After all, only one out of five submissions generally makes it past the strict reviewers. The Leipzig kids received 17.5 of 20 possible points – a fantastic result. The paper was submitted anonymously, too. "The reviewers thought we were scientists and didn't know that we're still in high school," the four junior engineers said. They're definitely on track to put in a memorable appearance.