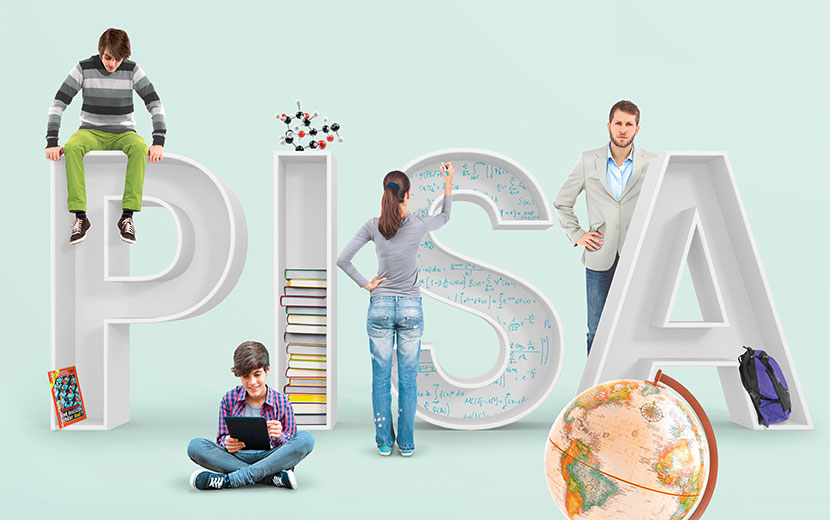 Image problem for the sciences
New findings of the PISA study
Rank 16 out of 72, stable performance in the upper middle range: German students didn't do all that badly in the latest PISA test. But Germany still lags behind the world's top performers like Singapore and Canada or European frontrunners like Finland or Latvia.
Key findings:
This year's PISA test focused on the sciences, where Germany ranked 16 out of 72 participating countries and economies. German students, in other words, are "still in the upper middle range and well above the OECD average," according to Andreas Schleicher, PISA coordinator at the OECD. The Organization for Economic Cooperation and Development carried out the PISA study last year, but only just completed evaluating the data.
The best students in the world hail from Singapore (556 points in the PISA science test), followed by Japan (538 points) and Estonia (534 points). The worst performers were Algeria (376) and the Dominican Republic (332). German students scored 509 points; the OECD average is 493 points.
When it comes to equal opportunities for children from socially disadvantaged families, Germany has seen some improvement, but social background and educational success remain highly correlated.
PISA data is collected every three years. The scientific scores of German students have declined slightly since 2012, as they have for the OECD as a whole. All in all, however, the results are largely identical to the results from the 2006 PISA study, when the sciences were also the focus of attention. PISA coordinator Schleicher describes this phenomenon as "stabilization at an above-average level, and not a step backwards."
Schleicher also notes that the German school system made extensive changes and improvements following its shockingly poor showing in the 2001 PISA study, resulting in significant gains in the performance of the 15-year-olds. He finds, however, that the reform has lost momentum. In order to catch up with the world's leaders, Andreas Schleicher warns education policymakers that "another quantum leap" is needed.
However, the education researchers also presented results that serve as real alarm signals for many observers, not just Deutsche Telekom Stiftung:
Students tested were asked whether they could imagine pursuing a career in the sciences. Germany ranked third-last among all 72 countries.
Andreas Schleicher attributes this result to students' direct experience in biology, chemistry and physics classes. Teacher support was rated as "astonishingly poor", "passion for science and technology is much less pronounced here than in other countries."
While girls now get equally good scores as boys in STEM subjects, there remain considerable differences in attitudes toward technological and scientific subjects. Andreas Schleicher noted, "Obviously, girls are not expected to perform as well here."
All in all, the sciences seem to have a serious image problem in Germany. And this problem is the perfect starting point for remedying Germany's medium- and long-term shortage of skilled workers. That's the approach taken by Deutsche Telekom Stiftung with initiatives such as development networks for teacher training, which encompass 13 universities throughout Germany.