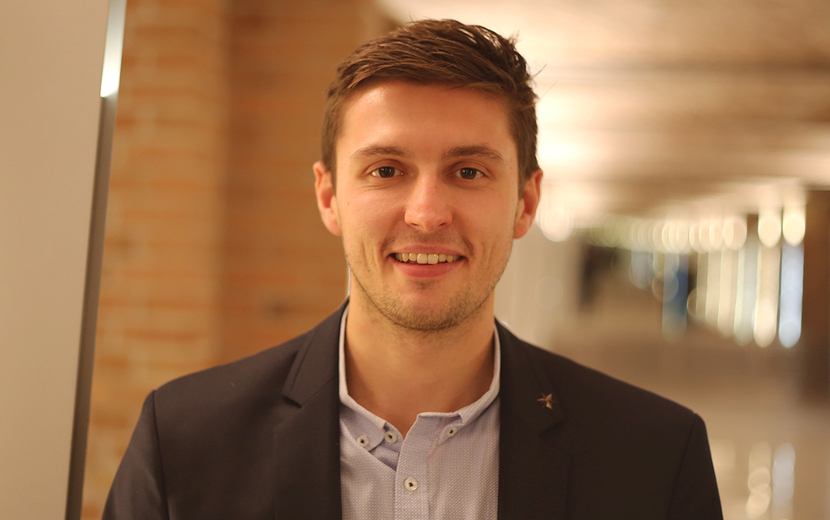 Experiencing the differences
The Klaus Kinkel Scholarship in the FundaMINT program gives student teachers an opportunity to teach abroad. Waldemar Schmidt from Hamburg is currently expanding his horizons in Poznań in west-central Poland.
Poznań is one of Poland's oldest cities, charming visitors with its Renaissance palaces and medieval fortresses. Waldemar Schmidt doesn't have much time to take in the sights, though. After all, he didn't come to the neighboring country as a tourist. He's here to finish his teacher training at the University of Hamburg with a three-month assistantship at a Polish high school. The 28-year-old is fond of his Polish colleagues. "People are so warm and friendly and courteous toward each other," said Schmidt, who is studying to become a vocational school teacher for mathematics and media technology and received a scholarship from Deutsche Telekom Stiftung for his assistantship in Poznań. Deutsche Telekom Stiftung's FundaMINT program sponsors student teachers specializing in STEM subjects (science, technology, engineering and mathematics). Scholarship holders are able to spend time abroad and learn about different cultures and education systems.
It's an opportunity that Schmidt truly appreciates: "I think it's a huge advantage to work at a school in another country and see how the two school systems compare. Poland is particularly interesting since the differences are quite substantial." For example, math classes follow a highly traditional format. "Exponential functions are really taught just as a mathematical principle, while German teachers might use the growth of a bacterial population as a case study, which grounds the class a bit more in the real world." He believes that all teachers should seek out enriching experiences like this. After all, "college-preparatory high schools really urge students to spend a year abroad. But I wonder how many teachers have spent time abroad themselves and can advise their students properly."
What really matters
Schmidt has already spent one semester abroad, in St. Petersburg, Russia, but he finds his time in Poland to be especially enriching. "While in Poland, I've spent some time thinking about what really matters to me as a teacher, and what I want to pass on to my students. That's one important effect of this stay abroad," the scholarship holder said. In Poland, students have to be able to reproduce a lot of material. There's no time for discussion, not even in the upper grades. "In Germany, we at least have a formal basis for discussion even if we can't always stay focused on it," Schmidt said. "Whatever the case, I want my students to learn how to think critically."
After Schmidt returns from Poznań, he plans to stay at the university and get his doctorate. But he isn't sure whether he'll end up teaching at a vocational school in Germany. "Even if I were to teach classes at a university, I would be training teachers and promoting these types of programs: 'Hey, why don't you go abroad as part of your training? It's an enriching experience that will make you a better teacher, if nothing else.'"