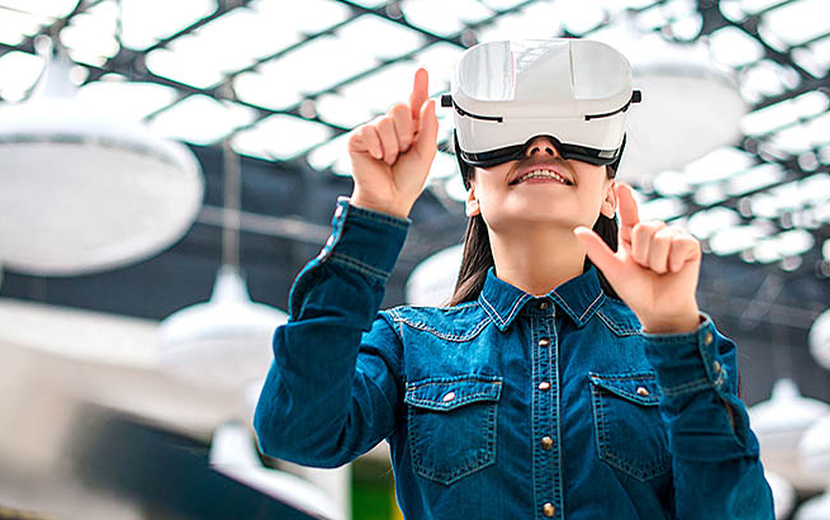 Everything is new
Trends in digital education
Elementary students learn to program, textbooks play music and videos, and exciting excursions take place right in the classroom - all thanks to the digital world. Last February's didacta in Stuttgart showed how quickly learning and teaching are changing. We visited the world's largest education trade fair and identified five big classroom trends.
1. Virtual reality in the classroom
How would you like to dive to the bottom of the sea, orbit the moon or explore the inside of a human mouth without ever leaving the classroom? You can - with virtual reality. Students can experience computer-generated interactive environments through VR headsets. The possibilities are enormous, as didacta showed. VR technology opens new opportunities in education, especially for science classes. It enables virtual trips to distant or completely inaccessible locations - an entirely new type of excursion. It also lets students watch experiments that could never be performed in the classroom.
Virtual learning experiences become deeply ingrained in students' memories because they are perceived as real experiences, say service providers who provide these kinds of projects. Some schools in Germany are already giving the future a try and using virtual reality in the classroom.
2. Programming for elementary school students
It's important for children to start navigating and understanding the digital world as early as possible. Hence the idea to introduce programming to elementary school students. Several programs and minicomputers aimed at this age cohort have already hit the market. One such computer, the Calliope mini, was presented at didacta. Educational materials are available from Deutsche Telekom Stiftung. Possible classroom projects include programming the computer to show numbers on an LED screen, play sounds or music, or even switch a connected light bulb on and off. This initiative has come in the nick of time: Germany has fallen behind the curve on computer skills. In the 2013 International Computer and Information Literacy Study (ICILS), German students achieved mediocre scores. More emphasis has since been placed on computing and programming classes.
Other computers are also suitable for classroom use. Some operate a simple traffic light or can set a small robotic vehicle in motion. Kids can even start coding in elementary school. Special software programs exist to help young children develop games of their own.
3. Smart textbooks
Backpacks should become significantly lighter in the years to come as conventional books make way for multimedia learning programs. However, a quick walk through didacta showed that textbook publishers have not bid farewell to the classic book format. Their "smart" textbooks are actually e-books with additional features. Presented on a computer screen, the textbook pages are supplemented with related links and extra functions. For example, foreign-language students can open audio files with listening examples, while math students can solve problems and immediately check their work.
E-books, for their part, seem destined to evolve into learning portals. Experts at the University of Siegen's Center for Economic Education expect tablets to become the leading medium of the future. They allow students to learn much more interactively than today and can be used to coordinate group activities through a chat program or a similar platform. Teachers can always join in remotely as a coach.
4. Clouds for schools
Many schools in Germany have a problem: they are supposed to teach computer skills to their students. However, their hardware and software is obsolete and expensive to maintain - a task usually performed by dedicated teachers in their spare time. Providers and developers at didacta say that clouds for schools will make life much easier. The basic idea: curricula and software are no longer scattered over several computers at school but stored centrally in a secure cloud using a web-based format. Teachers and students can access the cloud from anywhere, including their own computers. Media can be shared readily; school days and classroom hours can be organized more easily. And the schools can significantly streamline their IT environment.
Right now, the biggest project in this field is the "school cloud". Johanna Wanka, Germany's Minister of Education, presented the project at the IT summit that the German government held last year. The Hasso Plattner Institute in Potsdam developed the program and is currently trialling it at several pilot schools that specialize in STEM subjects.
5. Learning landscapes instead of classrooms
Change is coming to school buildings. Its name is the "learning landscape", and it is revolutionizing school architecture. Austere classrooms filled with rows of desks and chairs are making way for a living-room atmosphere, with couches, seating corners and bar-height tables, bookshelves in between and a laptop or tablet always at hand. Old-style school rooms are not conducive to learning and teaching, according to several education experts at didacta, including Professor Joachim Kahlert from the University of Munich. He believes that the proper learning environment is essential for students to process and retain what they learn.
In a learning landscape, students can pick their favorite spot and meet with other students as needed. The class only congregates in a large group on rare occasions, such as when instructors introduce a new topic. The students then reconvene in small groups where they continue their studies. Medical professionals praise the health benefits: students are less likely to suffer from poor posture if they can move about freely instead of being forced to sit on chairs for hours on end.
Photo: Mark Angor/Shutterstock