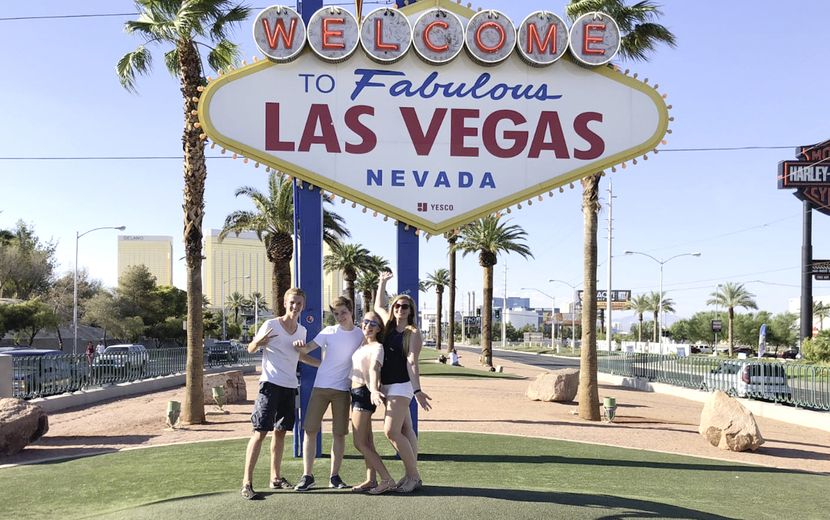 "Everyone thought the Dezibot was cool"
Homemade robot presented at U.S. conference: Anina (17), former Junior Engineer Academy student, talks about her experience in our interview.
Anina, you and three other graduates of the Junior Engineer Academy (JEA) were allowed to travel to one of the world's largest computer science conferences to present your joint research project, the "Dezibot", at the end of July. But you almost didn't make it at the last minute. What happened?
We were going to fly to Las Vegas via Toronto. However, we had problems with our visa in Frankfurt, and so the plane ended up taking off without us. Luckily, we were able to switch flights the next morning – a pretty difficult thing to do for a group of our size. Ultimately, we all managed to make it to Las Vegas one way or another on separate flights with multiple layovers.
Right on time for the start of CSCE'18*. What was your first impression of the city?
Enormous. Even our hotel, where the congress was held, was amazingly impressive. Everything in Las Vegas is gigantic and larger than life.
The paper that you submitted to the conference on your research project was reviewed "blindly". Does that mean that the reviewers had no idea that you were high-school students and not seasoned researchers?
That's right. That didn't come up until we showed our student IDs to get the student discount on the admission fee. But nobody said anything negative about it, on the contrary. Everyone thought it was really cool that we've already started publishing while still in school. We were even given a special welcome during the opening speech.
How was your school robot received at the conference?
We were floored by how interested people were. We had an opportunity to present our robot every single day. Our booth was always surrounded by a crowd of computer science teachers and professors from all over the world. A few times, people even approached us outside the conference somewhere in the hotel lobby: "Hey, aren't you the ones with the robot?" Everyone thought the Dezibot was cool and encouraged us to pursue the project further. Some were even disappointed that they couldn't buy the robot right then and there. They would have loved to use the Dezibot in their own class.
Did you learn something, too?
We learned a lot by talking with the other attendees. We got tons of new ideas and now have a much better idea of where we want to take our project.
What are you going to do next with the Dezibot?
We definitely want to keep developing the robot, change a few things about its hardware and design. And we want to prepare a class for it so that teachers will know how to use it properly later on. Our goal is to get the Dezibot into schools at some point so that students can use it in their computer science class.
Sounds like you could use a business plan.
We haven't decided whether we are going to be selling it. We might just as easily publish the plans and software on the internet so that everyone can access and use it.  But maybe we'll end up doing something else entirely.
The four of you are graduating from high school next year. Do you already know what's next?
Three of us are pretty sure that we want to pursue a computer science degree. I'd like to continue in robotics, too, because I think it's an exciting field. We also want to try to stay together somehow as a team. We've known each other for a long time, since the first year in the Junior Engineer Academy, and know that we work really well together.
How has the JEA impacted you and the choices you have made?
It was definitely helpful. Since we come from three different schools in Leipzig, we probably would have never met each other – or Professor Wagner – without the JEA. And the Dezibot would probably never have been developed. I think the JEA has helped nudge us all in the direction we are going today. I'm pretty sure that we all had an interest in computer science before, but JEA gave us an opportunity to explore this interest further. It was a wonderful experience for us.
Foto: privat
* The 2018 World Congress in Computer Science, Computer Engineering, & Applied Computing