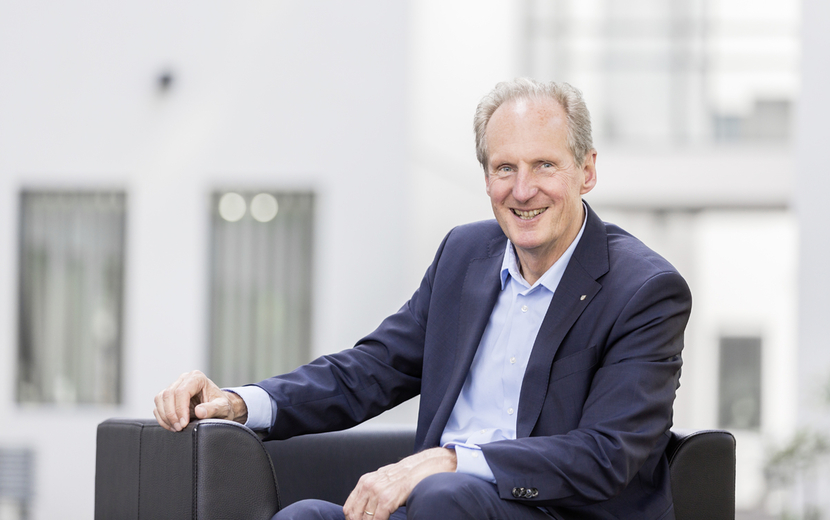 "Everyone can learn from others"
Executive Board Chairman Prof. Wolfgang Schuster explains why Deutsche Telekom Stiftung began looking across the border and what kind of activities it engages in.
Mr. Schuster, you did a lot of traveling overseas last year, as did other people from the foundation …
That's right. But we also welcomed a lot of foreign visitors who came to learn about what we do. International contacts always involve some give-and-take since everyone can learn from others. 

International outreach has always been an explicit part of the foundation's mission. But for over ten years, you only did projects in Germany. Why? 
Because we wanted to get the foundation on a firm footing in Germany first. It's what our founder wanted us to do when we were set up, and it's what our Board of Trustees has vigorously advocated. When we started out, we viewed ourselves as a learning organization: we work with academics and teachers to develop promising STEM education ideas, test them in projects and then scale up to maximize the impact. By following this playbook – focusing on STEM education in Germany – we've managed to occupy a key position in Germany's educational landscape in less than 15 years. Our international profile has grown as a result. In recent years, we've received a growing number of inquiries from neighboring countries about our willingness to extend our projects across national borders. And so, in the spirit of European integration, we've started to work toward approaching that goal.

That sounds very tentative …
I prefer to call it well thought-out. We can't transfer our successful activities wholesale to other countries. That's why we're taking a strategic approach and carefully analyzing the STEM situation in each country. Also, our ambition is to be involved in the operational side of each project and not just to fund existing projects. That requires us to reach out to potential partners in these countries, just as we do in Germany. So we've been talking to government administrators as well as educational practitioners such as university teachers and principals. And since we don't want to re-invent the wheel, we've also been talking to partners here in Germany that already have international experience or even networks in the countries we're interested in.

Could you name a few examples of current international projects? 
Last year, we made tremendous progress with three international programs in particular. One of them involved school partnerships for Junior Engineer Academies. Their purpose is to get students to collaborate on engineering projects, also through student and teacher exchanges. Typical projects include building robots or using 3D printers. What I find so impressive is that these kids find ways to collaborate in the real and virtual world despite the language barriers. Next, we'll work on setting up independent Junior Engineer Academies in other countries. Our second program revolves around enabling FundaMINT scholars to student-teach abroad. We help up-and-coming STEM teachers to obtain a student-teaching placement at German-language schools in other countries. And then there's our Volunteer Readers program. These adults read books to children as a way of introducing them to math, science and technology concepts. All these programs have one thing in common: they promote sound STEM education ideas while also winning ambassadors to spread the project's spirit and ideas to others.

What exactly do you mean?
We want our project goals to scale in order to provide better education opportunities for as many young people as possible. Not just in Germany, but abroad as well. You see, we're looking at more than the individual experience that people gain from student exchange programs or student teaching. We want the methods and concepts that we've developed to take root in each country and coalesce into self-supporting networks of JEA schools and volunteer readers – and possibly even a network of youth centers that are supported by our "Ich kann was!" initiative. It's our way of making Europe an everyday reality that has value, substance and meaning for many young people.
Photo credit: Sascha Kreklau