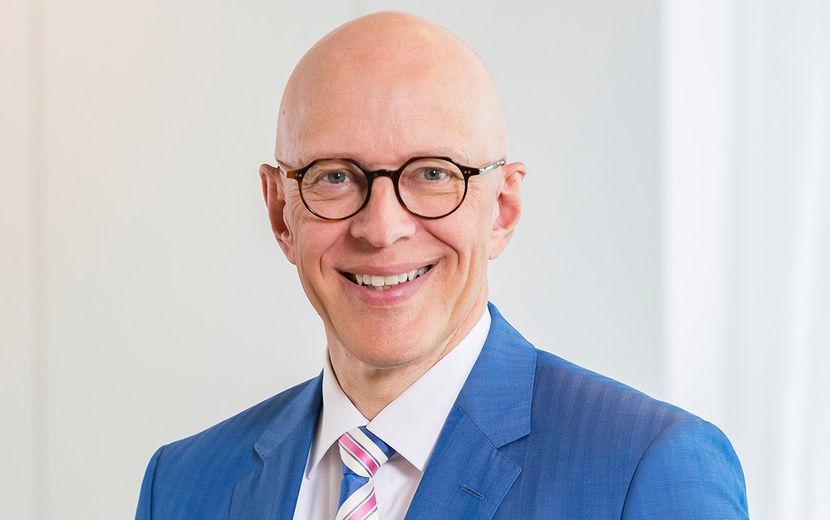 "Essentials at the workplace"
Executive Director Dr. Ekkehard Winter about the role that 21st century skills play in education and Deutsche Telekom Stiftung's involvement in the OECD Learning Compass 2030
Dr. Winter, the world is changing at a breakneck pace. Knowledge taught in today's schools might be completely obsolete in just ten years. How can we still prepare young people for life in the 21st century?
Dr. Ekkehard Winter: We obviously have to continue teaching fact-based knowledge in school. Plus, it's not true that all of today's knowledge will quickly become obsolete. STEM subjects in particular are packed with laws and insights that have stood the test of time and are essentially unassailable. However, it is also clear that new knowledge is constantly being created and that, in our connected world, the totality of human knowledge multiplies every few years. That's why I find it so important for schools to teach children and teenagers how to acquire this new knowledge themselves. They need to learn how to research properly on the internet and critically assess sources in order to separate actually useful information from the vast pool of available data. That is a challenge, as the pandemic has clearly shown.
You're alluding to 21st century skills …
Winter: Exactly. And that includes not just critical thinking and source assessment but also digital skills and self-organization. Those last two skills suddenly became much more important at the start of the COVID-19 pandemic as children were schooled at home. Schools should learn from this experience and focus more on developing students' soft skills in the future. There's a reason that the OECD highlights them in its Learning Compass 2030, a vision for the future of education. These skills are absolutely essential at the workplace today, as any HR expert would attest. However, this responsibility does not fall on schools alone; education happens in many places: social organizations and youth centers, museums and libraries, student laboratories, maker spaces and, last but certainly not least, in the home. All these places – which we call an educational ecosystem – can and should help prepare young people to succeed in the digital 21st century.
So how exactly do you teach soft skills?
Winter: Ideally by linking them to topics that students are learning, i.e. domains and disciplines. It makes no sense to teach 21st century skills in a vacuum; it would be like knitting without yarn. That's why we at Deutsche Telekom Stiftung support educational approaches like deeper learning and design thinking that interweave domain knowledge, interdisciplinary connections and soft skills like the teeth on a zipper: Young people are infused with knowledge but then take action on their own; they form groups, brainstorm solutions to a specific problem, research online, design prototypes on a 3D printer, record tutorials with a smartphone or develop PowerPoint presentations. At the end of the day, they have to hold their own against the other groups by presenting what they have developed. That brings together a lot of things that they will be doing later in the workplace.
You mentioned the OECD Learning Compass 2030. Deutsche Telekom Stiftung translated it into German together with partners. What exactly is it about?
Winter: The Learning Compass summarizes the skills that young people will need to succeed in the 21st century. It is based on the premise that young people have to take responsibility for their learning and thus positively influence not just their own lives but the world around them as well. Note: The compass is only intended to serve as a framework. It came from a years-long process involving hundreds of players from all the OECD countries. It is now time for the individual countries to flesh it out. We have taken the first step for the German-speaking world by translating it. We have also engaged Berlin educational historian Heinz-Elmar Tenorth to investigate the extent to which the Learning Compass can be connected to the educational debate and educational system in Germany. His expert opinion (German version) is highly critical and at times acts as an apologetic for Germany's current educational system. It also only touches on the dramatic changes wrought by the digital transformation of all areas of work and life as well as the resulting educational challenges – even though they were what prompted the creation of the Learning Compass in the first place. Still, I believe the opinion provides many good indications of areas in need of elaboration and ways in which the Learning Compass can be adapted to our country's needs. I sincerely hope that as many educational players and institutions as possible participate in the discussion process. After all, the German translation of the Learning Compass is a starting point, not a finish line.
--
The German translation of the OECD Learning Compass 2030 is a joint project of Bertelsmann Stiftung, Deutsche Telekom Stiftung, Education Y e.V., Global Goals Curriculum e.V. and Siemens Stiftung.
The expert opinion issued by Heinz-Elmar Tenorth on the extent to which the Learning Compass can be connected to the German debate on education and the educational system was commissioned by Bertelsmann Stiftung, Deutsche Telekom Stiftung and Siemens Stiftung.
Heinz-Elmar Tenorth talks about key skills and the Learning Compass in an interview published on the Bertelsmann Stiftung blog.
Photo: Deutsche Telekom Stiftung