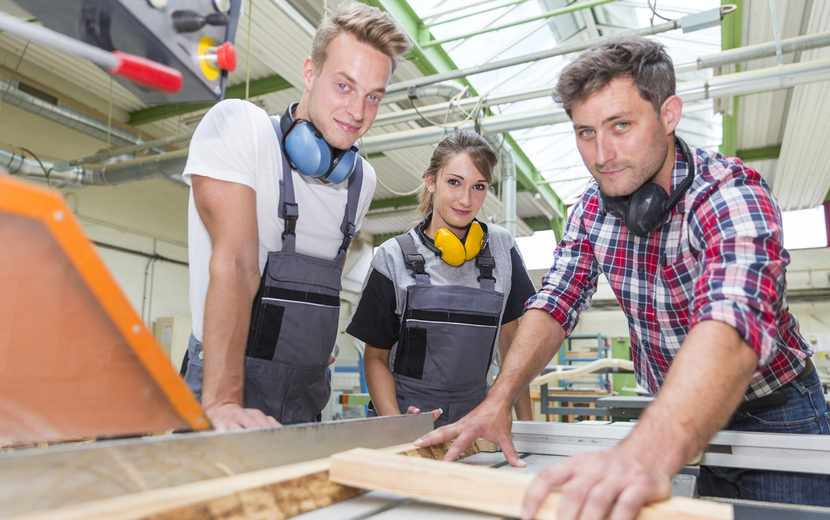 Double-track learning
If you are interested in learning a skilled occupation in Germany, the chances are that this will be as part of a dual apprenticeship scheme.
For many apprentices in Germany, a typical week consists of working on their machines from Monday to Wednesday and attending school on Thursday and Friday. Those completing a "dual apprenticeship" spend 70 percent of their time on the job and 30 percent at their vocational school. It is also possible for the classroom units to be completed in blocks over a period of several weeks. An apprenticing company looks after the hands-on part of the training and integrates the young people into the operational processes. This allows the trainees to learn the ropes in a real-life work process from the outset. Two-thirds of the vocational school lessons deal with subjects specific to the occupation in question, while the remaining third is devoted to general subjects. This means that, as well as electrical engineering and automation technology, a mechatronics apprentice takes classes in German and social studies. 
There are more than 300 different types of apprenticeships in Germany. The most popular of these at present are in retail training, office management training, sales, and car mechatronics. Anyone with a school-leaving qualification from a general secondary school can begin a dual apprenticeship. Depending on the apprentice's previous level of schooling, this can take anything between two and three-and-a-half years. School leavers with university-level entrance qualifications can generally shorten their apprenticeship time by a year, while those with lower secondary school qualifications have to complete the full training period. However, all apprentices can shorten their training period through outstanding performance on the job and in the classroom. The underlying conditions for an apprenticeship – such as content or remuneration – are set out in an apprenticeship contract. At the end of the apprenticeship period, there is a final examination conducted by vocational school teachers, in-company trainers, and representatives from trade associations.
Strong practice orientation
The German state guarantees uniform training standards throughout the country and is constantly further developing the dual education system in order to align it with the needs of the labor market. In this regard, a central role is played by research institutions such as the Federal Institute for Vocational Education and Training (BIBB). As BIBB President Prof. Friedrich Hubert Esser puts it: "We are the shapers of structural change. Vocational training and education institutions are used to adapting their curricula on a regular basis because the demands on qualifications also change regularly – whether this is due to new technology or changing customer requirements."
What sets dual training in Germany apart is its strong practical orientation, which benefits the young people and the economy in equal measure: As the employers are closely involved in shaping the training programs, the dual training also imparts the knowledge and skills that the companies need. The apprentices gain valuable hands-on experience in the companies and are frequently taken on after their training. At the same time, industry-wide standards – comparable content, qualifications, and certificates – guarantee that apprentices are qualified for their profession in general and not just for the specific work of their apprenticing company. The fact that Germany has, by international standards, a very low rate of youth unemployment is largely thanks to dual vocational training.
Fewer and fewer applicants
One challenge associated with vocational training is that fewer and fewer young people are applying for apprenticeships. While this is due in part to the demographic change in Germany, it is also a result of the increasing tendency among young people in recent years to choose an academic path, i.e. studying for a university degree rather than embarking on an apprenticeship. This marks a major change for Germany, with the number of students now more than twice as high as that of apprentices. Back in 2000, there was equal demand for both. At the same time, fewer and fewer companies are training young people. While almost a quarter of companies still offered apprenticeships back in 2005, this figure had fallen to 19 percent by 2014, and with very uneven distribution throughout Germany – in the former East Germany, for example, this was only the case with around one company in ten. Companies are under no obligation to offer apprenticeships to young people.
These developments will inevitably worsen the existing shortage of skilled workers in Germany. Recently, they have also led German educational policymakers to examine possible ways of encouraging more young people to opt for dual apprenticeships again. This also includes removing barriers between vocational and academic education and, for instance, allowing elements of vocational training content to be recognized for academic degrees. So that the highly successful German dual vocational training concept, which has been admired and copied the world over, will be able to work to full effect in Germany once again.
Picture credit: Atelier211/Shutterstock.com