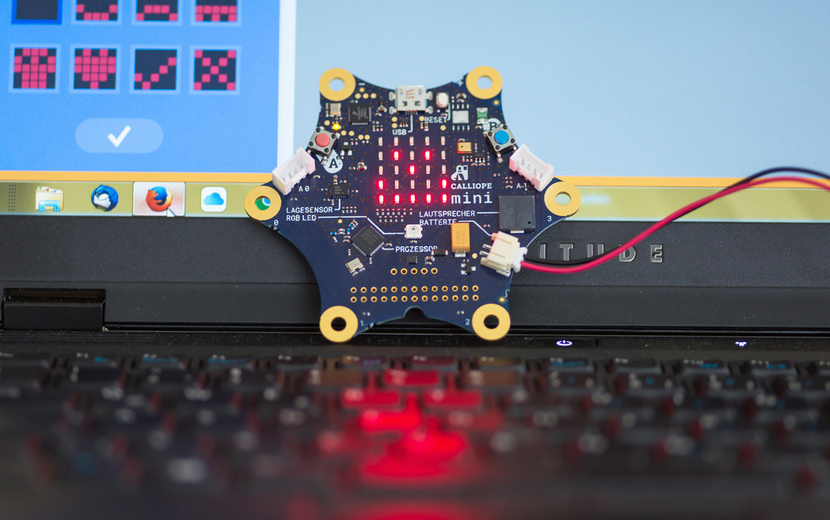 Digital beginnings
Throughout Europe, children are being introduced to programming from elementary school age. Here, we show examples from four countries.
Germany
Shaped like a six-pointed star, with 25 red LEDs and two programmable buttons, the appearance of the Calliope Mini alone is enough to stimulate any child's imagination. Since 2017, the minicomputer designed especially for educational purposes has been used in some German federal states as of third grade. As well as its appealing exterior, the computer has sensors that register movement and acceleration, a compass for determining direction, and a Bluetooth interface for transferring data to a PC. With these and other functions, it is ideally suited for a wide range of activities. Elementary school children use its random generator for dice games, to compose brief melodies, or transform it into a weather station. To do so, they use software with which they merge predetermined code modules according to the application they want. Deutsche Telekom Stiftung has played a part in developing concepts and teaching materials relating to the Calliope mini. It also provides funding to Bremen University, where researchers are examining how schoolchildren can benefit from using various minicomputers.

Estonia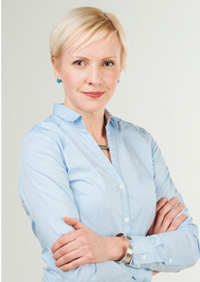 Estonia – a country where rapid fiber-optic internet is available almost universally, most administrative procedures can be performed online, and it is even possible to vote in elections via the web – is a veritable pioneer when it comes to digitalization, which it introduces to its children at elementary school level. In 2012, the Information Technology Foundation for Education (HITSA) and the government launched a large-scale funding program. The partners organize training for teachers, provide teaching materials, and network participating schools with one another. Ave Lauringson, who is taking programming to schools with the "ProgeTiiger" project, says: "Schoolchildren should view computers and the possibilities they offer from a completely new angle, making software users into software creators." The children work with simple software that programs, for instance, small 3D games or sends robot vehicles on a predefined route. Teachers are also urged to make use of software and technology outside computer classes – for instance, using computers as an aid to composing in music lessons. 

United Kingdom
The micro:bit from the United Kingdom is the first ever minicomputer to be developed especially for use in schools. It has its roots in an initiative by the British Broadcasting Corporation (BBC) as part of its mission to promote education. One million of these devices have been distributed to seventh- and eighth-graders since 2005. The children use them in computer lessons and also in other subjects, transforming the minicomputers into devices for measuring, calculating, or playing games. Because the computers belong to the pupils rather than the schools, they accompany the children all through their school years. Like its German counterpart, the Calliope Mini, the micro:bit can be programmed with simple code modules. There are a number of different online platforms that offer a huge range of codes and related teaching material. The aim is that, little by little, interacting with information technology will become second nature for schoolchildren. "We happily give children paint brushes when they're young, with no experience – it should be exactly the same with technology," says Sinead Rocks of the BBC. The launch phase was monitored by researchers who presented their findings in mid-2017, revealing that almost 90 percent of students felt that the micro:bit made their lessons more interesting. Girls in particular are benefiting, with the number of female students choosing informatics as an elective subject increasing by 70 percent. 

Finland
Since the 2016/17 school year, programming has become a compulsory part of the curriculum for all Finnish schoolchildren from first grade onwards. The children take their first steps in this area in the form of games, learning for example that all programming language is based on commands. This means that, in their lessons, the children practice giving as precise instructions as possible. To begin with, the "command recipients" are teachers or fellow pupils. An innovative schoolbook is also used – "Hello Ruby" by Finnish programmer and illustrator Lina Liukas, which has since been translated into 22 languages. Her main protagonist, six-year-old Ruby, thinks and acts strictly according to the basic principles of informatics. In the first part of the book, the schoolchildren join Ruby on an adventure in story form; the second part consists of exercises. Although there is no specific subject called "Programming" on the elementary school curriculum, this is by no means an obstacle to learning about the subject. For instance, "Hello Ruby" even uses sports lessons to illustrate programming: Dancing essentially involves performing the same practiced movements – exactly what "loop" means in programming language.
Photo credits: Deutsche Telekom Stiftung/Juer, Ave Lauringson