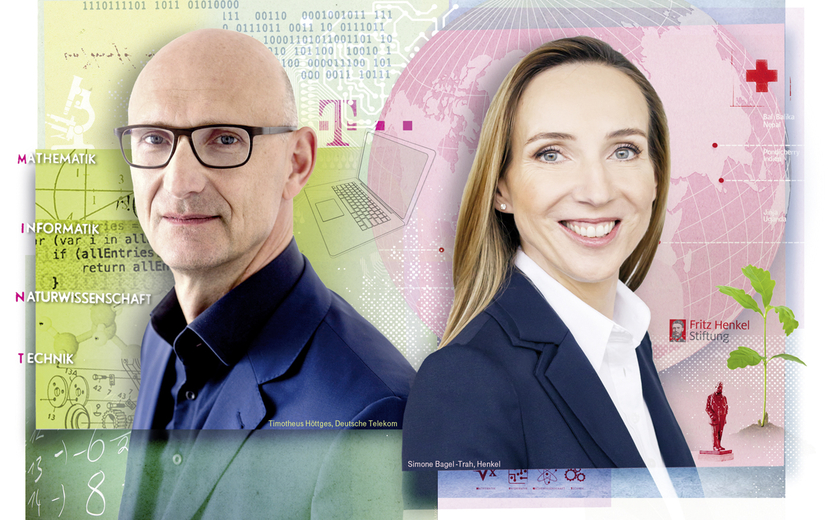 "Cooperation is the key"
Coming together for a joint interview, Henkel supervisory board chairwoman Simone Bagel-Trah and Telekom group CEO Timotheus Höttges talk about social responsibility and their respective corporate foundations.
Dr. Bagel-Trah, Mr. Höttges, when you think about enterprises such as Henkel and Telekom, it is not exactly their engagement in social issues that first comes into mind. So what should people know about it?
Bagel-Trah: For us at Henkel, social engagement goes absolutely without saying. It is deeply anchored in the company's roots and values, and already dates from the time of my great-great-grandfather, Fritz Henkel, who first started the business. The well-being of his own employees was always a matter of major concern to him, as indeed was that of society as a whole and in particular of the people living in the localities where the firm had business operations. And we continue to assume social responsibility out of a sense of genuine conviction right up to the present day, but we now pool much of our worldwide engagement in a foundation specifically dedicated to that purpose, the Fritz Henkel Stiftung. In cooperation with the foundation, we also initiate and coordinate aid projects of our own, which attract the participation of Henkel employees throughout the world. These include such widely divergent projects as integration programs in Germany, construction projects for families in need in Eastern Europe, educational programs in the STEM subjects, or the provision of funding for a chair in sustainability at Düsseldorf University.
Höttges: I like the reference you made to the company founder. There's a saying in our organization that "There's no future without a past". For us, the values of an "honest businessman" play an important role. Naturally, our aim is to make a profit, but we are also concerned with the matter of common decency. With giving something back to society. At Telekom, our social responsibility rests primarily on two pillars – our Corporate Responsibility Program and the Telekom Stiftung, our non-profit foundation. Under our group-wide CR Program, we are committed to acting sustainably in all areas of our value creation chain. With the foundation of the Telekom Stiftung, we have created an independent organization aimed at serving the needs of civil society that has set its sights on one of the biggest social challenges of our present day, which is improving education in the STEM subjects.

What are foundations able to achieve that go beyond the other activities in the Corporate Responsibility field?
Höttges: The creation of a foundation is always a statement of commitment for the long haul. After all, as we have known since the time of Max Weber, organizations tend not to abolish themselves, and they are only rarely disbanded. So through a strategic decision of that kind, a business enterprise binds itself for the long term and with a special focus – in our case the promotion of education. As we are all well aware, this field, in particular, has very many difficulties to contend with. So success in this area can only be achieved by those with great stamina and perseverance. The Telekom Stiftung has now been involved for 15 years in efforts to improve the education system.
Bagel-Trah: I would also like to join in underscoring the benefits of a long-term approach. But in addition to that, foundations are able to act with great agility and flexibility and also provide sharply focused support for smaller projects, for example, or in the case of acute emergencies, such as natural disasters, deliver assistance fast and with the minimum of red tape. In cases like this, the frequently slimmed-down administrative bureaucracy can be a major benefit.

How independent from the company that founded it can and must a corporate foundation be in order to be credible for cooperation partners?
Bagel-Trah: A foundation should be completely independent and only be bound by its statutes and the intentions of its founders. That is the case with us. The management is responsible for acting in conformity with the statutes, and the foundation's board of directors regularly checks that it does so. However, for certain projects, collaboration with Henkel has proved to be beneficial and very fruitful as it allows the foundation to draw on expertise available within the company and social projects to be financed better by both parties acting together.
Höttges: The same also largely applies to the Telekom Stiftung. It is completely independent and wholly autonomous in its activities. That was an important aspect in the collaboration with education providers. Pre-school facilities and schools are always very cautious when business enterprises are involved. On this point, we were able to make absolutely clear that the foundation is a non-profit entity and on no account a corporate unit of Telekom.

Both foundations have education in their sights, and more specifically the science, technology, engineering and mathematics subjects. Why is this particular field of so much interest to you?
Bagel-Trah: As a general statement, education is the key to social progress. It is my firm belief that Germany, as a resource-poor country, must place a focus on providing first-class education. And the sciences and technology play a highly important role in that context.
Höttges: Even in the "Land of Poets and Thinkers" …
Bagel-Trah: … which is just as much, if not more so, also the land of innovators, inventors and engineers. It's therefore important to me to boost awareness for the significance of the sciences and technology. Just think a minute what a typical day nowadays looks like: We get up, prepare breakfast using electrical kitchen appliances, read the news on our smartphones, get on or in a means of transport, travel through the town or city using a hopefully well-integrated transport infrastructure, work on a computer – these everyday items are all technical or technological achievements without which progress would now be unthinkable.
Höttges: And precisely for that reason, good education in the STEM subjects is a goal that can never have too much support in Germany. Because along with the poets and thinkers, we also need the digitizers. Sadly, at over 315,000 people, the shortage of experts in this field is currently far too great. I know from first-hand experience what it means when it's almost impossible to find suitably skilled personnel.
Bagel-Trah: Our company, too, is reliant on first-rate scientists and engineers. As digitization increases, so does the demand for people – and the shortfall makes itself felt all the more severely …
Höttges: And what makes the need for action even more urgent is the fact that as far as STEM skills are concerned, there is much more at stake than simply making up the number of qualified professionals. In the digital world, where technology dominates, we need a comprehensive understanding of mathematical, scientific and technological matters. As far as I can see, this is an issue that still hasn't been fully grasped.

In your view, what constitutes successful cooperation in the field of education? What are your "must haves"?
Bagel-Trah: Cooperation must always be based on trust, mutual respect and clearly defined responsibilities.
Höttges: Yes, I would go along with that completely. With regard to the clearly defined responsibilities, I would like to add that in the case of bigger cooperation projects involving a large number of partners, there must always be someone who holds everything together and is able to intervene if something is not running as it should – i.e. an honest broker.

What advice would you give to other companies thinking of setting up a foundation?
Bagel-Trah: My advice would be: Do it! And also make the necessary resources available and ensure a high level of trust and independence.
Höttges: I would also give them the thumbs up: Do it, definitely! But on no account because philanthropy is the fashionable thing to do, but because business enterprises really can – and must – contribute effectively to dealing with major social challenges. And in the long term, that best way to do that is through a foundation.
Dr. Simone Bagel-Trah, born 1969, is the great-great-granddaughter of company founder Fritz Henkel. After graduating in biology, followed by a doctorate, she began by setting up her firm specializing in clinical microbiological research. In 2001, she became a member of the Henkel supervisory board, and four years later was elected to the company's shareholder committee. In autumn 2009, she took over the chairmanship of both bodies. She is also chair of the board of directors of the Fritz Henkel Foundation. Fostering the interest and involvement of children in the sciences and technology is a matter that is very dear to her heart.
Timotheus Höttges, born 1962, has been CEO of Deutsche Telekom AG since January 2014, and at the same time chairman of the board of trustees of Deutsche Telekom Stiftung. After graduating in business administration, he initially worked for a business consultancy, before moving to the VIAG group in Munich. He was closely involved in the merger between VIAG AG and VEBA AG to form E.on AG.
Author: Andrea Servaty / Illustration: Daniel Matzenbacher