Person information
:
Dr. Ekkehard Winter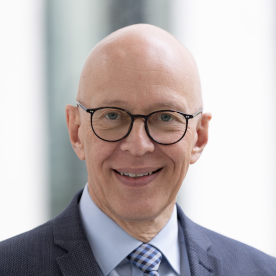 Executive Director
Dr. rer. nat. Ekkehard Winter, born August 1, 1958 in Lüdenscheid, has been executive director of Deutsche Telekom Stiftung since February 1, 2005.
After graduating in biology at Cologne University, followed by a doctorate at the university's Institute for Genetics under Prof. Klaus Rajewsky, he was appointed in spring 1987 as project manager at the then newly founded German Academy of Sciences at Berlin. Two years later, he moved to Essen to join the Stifterverband, an industry association for the advancement of higher education and research. During his time there, he was responsible, among other things, for programs concerned with university reform, and also looked after a number of foundations working in the field of the natural and biosciences.
In 1999, Ekkehard Winter worked for three months at the Engineering and Physical Sciences Research Council (EPSRC) in Swindon, England, the UK's biggest organization devoted to the promotion of science. At the start of the year 2000, he was appointed head of the Stifterverband's "Program and Promotion" unit, and on January 1, 2003 was also named deputy general secretary of the Stifterverband. Dr. Winter is a co-founder of "Science in Dialog", a nationwide science communication initiative created in 2000 and encompassing all of Germany's scientific research organizations, and also of the Euro Science Open Forum (ESOF, 2004).
As executive director of Deutsche Telekom Stiftung, he sought to strengthen its profile as a leading foundation in the field of STEM education. Among other things, he was instrumental in establishing the German Center for Mathematics Teacher Education in 2011, and in 2017/2018 was the founding director of another organization initiated by the Stiftung, the Forum Education and Digitalization. Up to the end of 2020, Dr. Winter was a member of the board of the Little Scientists' House Foundation.
Since 2006, Ekkehard Winter has been active on committees and in other bodies of the Association of German Foundations, particularly as head of the Education Working Group for many years. Since 2020, he has represented Deutsche Telekom Stiftung as a founding member of the Foundation for Education. In 2015, Dr. Winter was a member of the evaluation commission for the biennial report "Education in Germany". Since 2017, he has been co-chairman of the National STEM Forum.